US pushing for more open markets in China
(chinadaily.com.cn)
Updated: 2005-10-16 09:12
The Bush administration's economic team is expected to argue for a quickening pace of China's financial market reform, and push the country wide open to foreign banks, investment firms and insurance giants.
U.S. Treasury Secretary John Snow and the Federal Reserve chairman Alan Greenspan are leading a strong economic delegation visiting Beijing, who are sitting face to face on the table with Chinese economic officials on Sunday in the annual joint Sino-American economic conference.
U.S Treasury Department senior officials say the plan for the Chinese is part of an comprehensive Washington bid to put the Chinese currency yuan into a broader debate over China's reliance on exports as the main engine of economic growth, the New York Times reported.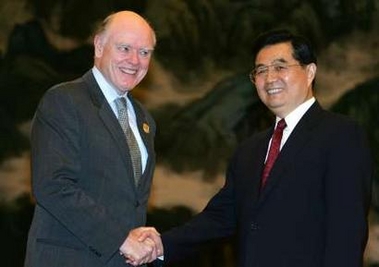 Chinese President Hu Jintao (R) shakes hands with U.S. Treasury Secretary John Snow during a meeting with leaders of the G20 Finance Minister and Central Bank Governors inside the Great Hall of the People in Beijing October 15, 2005. [Reuters]

The plan calls for Beijing to speed up the privatization of state-owned companies, including banks; to develop a Chicago-style futures market for currency trading; to establish an independent credit-rating agency; and to crack down on bailouts for banks left holding bad loans.

"What we tried to do is take a quantum leap in sophistication and scope," said Timothy D. Adams, undersecretary for international affairs at the Treasury Department. "It gives you a picture of the truly complex nature of what we are trying to do."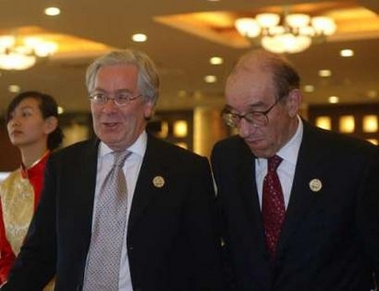 Bank of England Governor Mervyn King (C) chats with U.S. Federal Reserve Board Chairman Alan Greenspan (R) after a luncheon during the G-20 Finance Ministers and Central Bank Governors meeting in Grand Epoch City in Xianghe of the Hebei province, about 100 km (62 miles) east of Beijing October 15, 2005.[Reuters]

Though many of the ideas are not fresh, and often supported by Chinese leaders in principle, the list reflects an increased effort to lecture Chinese officials about its internal financial issues, which could backfire, the New York Times reported.