Little violence as Iraqis vote on charter
(AP)
Updated: 2005-10-16 08:51
Sunni Arabs voted in surprisingly high numbers on Iraq's new constitution Saturday, many of them hoping to defeat it in an intense competition with Shiites and Kurds over the shape of the nation's young democracy after decades of dictatorship. With little violence, turnout was more than 66 percent in the three most crucial provinces.
The constitution still seemed likely to pass, as expected. But the large Sunni turnout made it possible that the vote would be close or even go the other way, and late Saturday it appeared at least two of a required three provinces might reject it by a wide margin.
Washington hopes the constitution will be approved so that Iraqis can form a legitimate, representative government, tame the insurgency and enable the 150,000 U.S. troops to begin to withdraw.
After polls opened at 7 a.m., whole families turned out at voting stations, with parents carrying young children, sometimes in holiday clothes. Men and women lined up by the hundreds in some places or kept up a constant traffic into heavily bunkered polls, dressed in their best in suits and ties or neatly pressed veils ¡ª or in shorts and flip-flops, weary from the day's Ramadan fast.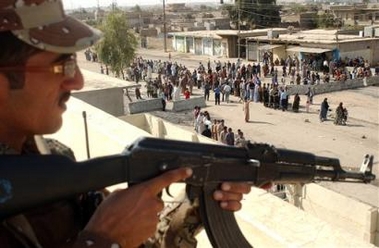 A soldier stands guard on a rooftop as Iraqis wait in long lines to vote in Iraq's referendum on the new constitution in Mosul, Iraq, Saturday Oct. 15 2005. [AP]

"I'm 75 years old. Everything is finished for me. But I'm going to vote because I want a good future for my children," Said Ahmad Fliha said after walking up a hill with the help of a relative and a soldier to a polling site in Haditha, a western Sunni town.

Some 9 million Iraqis cast ballots, election officials said, announcing a preliminary turnout estimate of 61 percent.

In Baghdad, men counted votes by lanterns because the electricity was out in parts of the city. Results were written on a chalkboard. Outside, Iraqi soldiers huddled in a courtyard, breaking their fast. Northeast of the capital, in Baqouba, men sat around long tables, putting "yes" votes in one pile and "no" votes in another.