Pakistan quake death toll nears 40,000
(AP)
Updated: 2005-10-16 08:45
The death toll from Pakistan's earthquake rose sharply to nearly 40,000 Saturday, with the president warning the numbers could jump still higher as relief teams reach more villages in the endless folds of the Himalayan mountains.
Homeless survivors searched desperately for blankets and tents to brace against plunging temperatures. The suddenly frigid weather in some hard-hit areas was an ominous sign that winter was fast approaching ¡ª with thousands of villagers still cut off from any aid whatsoever a week after the magnitude 7.6 quake hit the region.
Heavy rain began falling early Saturday in many stricken towns and snow fell in the surrounding mountains, disrupting efforts to help an estimated 2 million people still lacking shelter. Only 18,000 tents have been distributed so far to house them, Pakistani Prime Minister Shaukat Aziz said Saturday.
With temperatures down to 46 degrees, this town became a rain-soaked nightmare for victims streaming in from nearby villages seeking help from aid groups.
Mohammed Qassim, 25, took shelter from the rain under the corrugated roof of a collapsed building.
He was searching desperately for a tent to keep his five children, as well as the families of his two brothers, reasonably warm.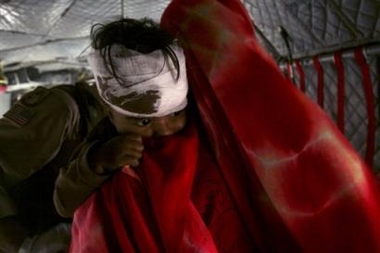 A wounded boy is taken into a U.S. helicopter in Balakot, Pakistan, Saturday Oct. 15, 2005. [AP]

"For the sake of God, please give me one tent so that three families can live" he recalled telling aid groups, most of which appear to have run completely out of tents. "They said no." He's hoping to at least get plastic sheets.

"We distributed 1,000 tents yesterday but we have run out," said Farhi Butt, who partly owns a telecommunication company that had rushed aid to Balakot.

He had resorted to cutting up plastic signs and distributing them in sheets.

"They're waterproof," he said. "It's not what they're made for, but it will help the people survive for right now."

Helicopter relief flights ¡ª which have been ferrying supplies into the quake zone and ferrying out the injured ¡ª were halted for about 90 minutes Saturday morning before resuming, except to Balakot where the weather was particularly bad. That left hundreds of injured, cold and terrified people waiting by the helipad, hoping for the weather to clear.