38,000 dead in Pakistan from quake
(AFP)
Updated: 2005-10-15 14:56
MUZAFFARABAD, Pakistan - The region's massive earthquake killed 38,000 people in Pakistan, injured 62,000 and left 3.3 million homeless, Interior Minister Aftab Sherpao has told AFP, raising the death toll by 13,000.
"There are 38,000 dead in the earthquake," Sherpao said.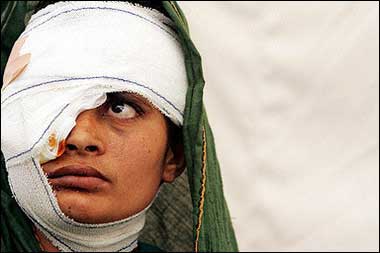 An injured Kashmiri woman waits for medicine after treatment to her head and eye at a makeshift medical center set up in Tandali village, some 20 kilometers from Muzaffarabad. The UN's top relief official warned of a 'disaster within a disaster' due to the crush of quake aid pouring into Pakistan. [AFP]

The figure of homeless was far up from the previous estimate of 2.5 million. Officials had earlier put the death toll at 25,000 and the injured at 63,000.

The October 8 earthquake, which registered 7.6 on the Richter scale, also ravaged the Indian side of divided Kashmir, killing 1,329 people there, according to Indian police.

International aid has only just started to trickle through the Himalayan foothills of Pakistan-controlled Kashmir, the epicentre of the 7.6-magnitude quake that shook the region on October 8.

Mountainsides have collapsed, taking villages and roads with them, while cities such as Muzaffarabad, the capital of the Pakistani side of Kashmir, have been all but wiped off the map, their residents turned into refugees.

Foreign rescue teams who rushed to save trapped victims have given up the fight, and Pakistani army troops have begun clearing the rubble with bulldozers and spraying the wreckage with disinfectant.

"We're still racing against the clock and we need to get more helicopters, more water, more tents and more money," UN relief chief Jan Egeland told AFP during a visit to the quake-zone on Thursday.

"This is a desperate situation. As you can see we are making progress in the more populated areas but it is so hard to reach the others," he said, referring to blocked roads and steep terrain that prevents helicopters from landing.

"With the low temperatures, the chances of survival are very minimal. Now we'll assist the people who are alive," said British rescuer Stuart Downes on Friday as he prepared to leave Muzaffarabad.