Iraqis vote in constitutional referendum
(AP)
Updated: 2005-10-15 14:32
Iraqis voted Saturday to give a "yes" or "no" to a constitution that would define democracy in Iraq, a country now sharply divided among its Shiite, Sunni and Kurdish communities.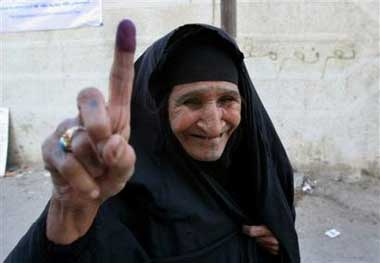 An elderly Iraqi woman shows an ink colored finger, confirming she has cast her vote, in Iraq's constitution referendum, after exiting a voting station in Baghdad, Iraq, Saturday Oct. 15 2005. [AP]
The polls opened at 7 a.m., just hours after insurgents sabotaged power lines in the northern part of the country, plunging the Iraqi capital into darkness and cutting off water supplies.
The capital was quiet under clear blue skies Saturday morning. Iraqi soldiers and police ringed polling stations at schools, and driving was banned to stop suicide car bombings by Sunni-led insurgents determined to wreck the vote. Only a few citizens were seen walking to the schools, which were protected by concrete barriers and barbed wire.
President Jalal Talabani and Prime Minister Ibrahim al-Jafaari were shown live on Al-Iraqiya television voting in a hall in Baghdad's heavily fortified Green Zone, where parliament and the U.S. Embassy are based. After putting their paper ballots in white-and-black plastic boxes, both smiled and waved to the public.
"The constitution will pave the way for a national unity," said al-Jafaari. "It is a historical day, and I am optimistic that the Iraqis will say 'yes.'"
In Karrada, a heavily Shiite area of eastern Baghdad, Zeinab Sahib was one of the first to cast a ballot at a school guarded by machine gun-toting Iraqi soldiers.
"Today, I came to vote because I am tired of terrorists, and I want the country to be safe again," said the 30-year-old mother of three, who was wearing a head-to-toe black chador dress. "This constitution means unity and hope."