China insists on gradual currency reforms
(AP)
Updated: 2005-10-15 09:11
BEIJING - China will loosen currency controls only gradually in order to preserve its economic stability, its finance minister said Friday ahead of a meeting with finance officials from the United States, Europe and other key trading partners.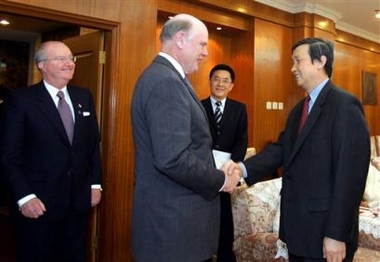 U.S. Treasury Secretary John Snow, left, shakes hands with Ma Kai, right, who is the head of the National Development and Reform Commission (NDRC) in the NDRC headquarters in Beijing, China Friday Oct. 14, 2005. [AP]
Finance Minister Jin Renqing's comments underscored Beijing's resistance to pressure by the United States and others to let the Chinese yuan trade freely. Officials were expected to press those demands during the Group of 20 meeting that begins Saturday.
"Our hope is, first of all, to realize a manageable currency rate system based on the supply and demand of the market economy," Jin said after meeting with Gordon Brown, Britain's chancellor of the exchequer, or finance minister.
"The goal is to maintain a stable currency rate system. We are moving toward that goal in steps," Jin said.
Brown gave measured praise for China's move on July 21 to raise the yuan's value by 2.1 percent against the dollar and to switch to a more flexible system that bases it on a basket of currencies, including the yen and euro.
"We welcome the progress to flexibility that has been made in China and note from the minister that it is the Chinese government's intention that this is the direction they want to move further to at a later stage," he said.
Since the July revaluation, Chinese officials have ruled out any more one-off revaluations, saying they will allow the currency's value to adjust gradually, through the market. Beijing limits the yuan's movement to a narrow range. In the past three months, the yuan has appreciated only about 0.3 percent.
Beijing's trading partners are urging it to move faster. They say the yuan is undervalued by up to 40 percent, giving Chinese exporters an unfair price advantage and hurting foreign competitors.
The currency issue is on the agenda of the summit of finance officials of the Group of Twenty industrial and developing nations, hosted by China for the first time.
U.S. Treasury Secretary John Snow, who arrived in China earlier this week, earlier emphasized his desire to see Beijing let the yuan trade more freely in world markets and this week has pressed China to further develop its financial markets and trade.
After visiting Shanghai's showcase stock exchange and foreign exchange trading center, he traveled on to the western city of Chengdu — to see how economic reforms are progressing in the country's interior, where the majority of China's 1.3 billion people live.
On Friday, Snow met with Ma Kai, head of China's main economic planning agency, the National Development Reform Commission. Details of that meeting were not available.
The administration of President Bush is anxious to do something about China's huge trade surplus with the U.S., which surged to $162 billion last year, a record U.S. trade gap with any country.
During the G-20 meeting, Snow and other U.S. officials may well face criticism of the United States' massive trade and budget deficits.
"America knows it has got to deal with its deficit problems so that it, too, can promise it is making its proper and best contributions to the world economy," Brown told reporters.
The G-20 nations account for 90 percent of global gross domestic product, 80 percent of global trade and two-thirds of the world's population.
They include the Group of Seven industrialized nations as well as the European Union, China, Argentina, Brazil, Russia, India, Australia, Mexico, the Republic of Korea, Indonesia, Saudi Arabia, South Africa and Turkey. Top representatives of the International Monetary Fund and the World Bank will also attend the meeting, being held at a resort outside Beijing.
The aim of the meeting is to discuss imbalances in development, limits to the international economic system and other broad issues, the official Xinhua News Agency cited Jin as saying.