Shenzhou VI fine-tunes orbit on day 3
By Zhao Huanxin (China Daily)
Updated: 2005-10-15 06:52
Shenzhou VI underwent orbit "micro-readjustment" early on Friday, the first time such maintenance has taken place since Wednesday's launch.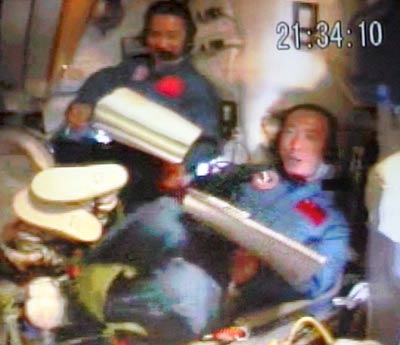 Astronauts Nie Haisheng (left) and Fei Junlong, orbiting the Earth in the Shenzhou VI spacecraft, talk through phones with their family members October 12, 2005. China launched its second manned space mission Wednesday morning. [Xinhua]
The Beijing Aerospace Control Centre said that the maintenance was a normal technical operation, and controllers will perform similar tasks in the future in accordance with the spacecraft's orbiting situation.
At 5:56 am on Friday, when Shenzhou VI was circling the Earth for the 30th time, the control centre began the scheduled orbital maintenance.
Centre experts explained that during Shenzhou VI's flight, atmosphere resistance would slightly slow down the spacecraft, prompting the craft to decline slowly towards the Earth. Therefore mission control decided to fine-tune its orbit to restore the vessel to its original trajectory, they said.
At the time the orbit was being "micro-readjusted," astronauts Fei Junlong and Nie Haisheng, in blue suits, were seen closely watching the operation, according to pictures shown on the monitoring screens at the control centre.