China reports 126,808 HIV/AIDS cases
(Xinhua)
Updated: 2005-10-14 16:15
By the end of June 2005, China has reported 126,808 people infected with HIV, including 28,789 AIDS patients.
The death toll of HIV/AIDS had reached 7,375, according to Hao Yang, deputy head of the disease control department with the Ministry of Health on Friday.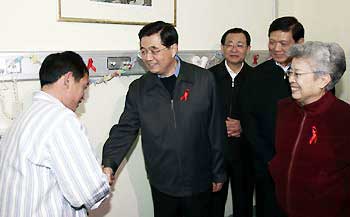 Chinese President Hu Jintao, also general secretary of the Communist Party, shakes hands with an AIDS patient in You'an Hospital in Beijing in this November 30, 2004 file photo. [Xinhua]

Hao revealed the figures at a press briefing on the preparation of a government-organized evening show, as publicity of the 18th World AIDS Day which falls on December 1.

In March this year, Vice Health Minister Wang Longde said that by the end of 2004, China had reported 106,990 people infected with HIV, including 23,955 patients, but the figures only accounted for 12.7 percent of the total infected.

This year's World AIDS Day highlights participation of governments, organizations and individuals in fighting HIV/AIDS, said Hao, noting that the Chinese government has been exerting efforts in the fight.

The evening show, initiated by the Ministry of Health and jointly held by a group of government departments, will stage around November 25. Each of the annual shows in past three years have had sound effect, he said.

Some international organizations also have sponsored the show, including the United Nations Children's Fund, the World Health Organization and the Joint UN Programme on HIV/AIDS.

Experts estimate that China now has 840,000 people infected with HIV including 80,000 AIDS patients. The number of people living with HIV/AIDS in China is predicted to exceed 10 million by 2010 if no strong measures are taken.