Snow asks China to open finance industry
(Chinadaily.com.cn/Agencies)
Updated: 2005-10-14 09:14
Visiting US Treasury Secretary John Snow appealed the Chinese authorities in Beijing for more open participation of the world's banking corporations in China's finance sector.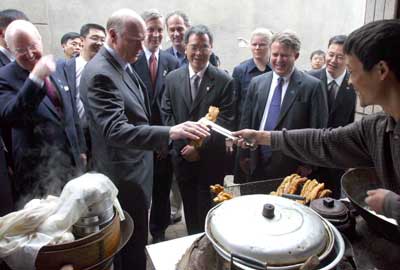 U.S. Treasury Secretary John Snow receives a deep-fried twisted dough stick from a vendor at a market in Mulan township in Chengdu city, southwest China's Sichuan province, October 13, 2005. [Newsphoto]
Snow told reporters in Mulan Town, near Chengdu, the capital city of southwestern Sichuan Province, that financial market modernization is important for a variety of reasons: it will help sustain and even accelerate (China's ) growth through better use of capital.
"An unacceptably high non-performing loans ratio indicates you are putting capital in the wrong hands," he said after visiting a credit union building in the town of 36,000 on Thursday.
Snow is expected to press Chinese leaders for reforms on a broad range of fronts, including currency regime change, and to allow greater participation for Western banks in the country's tightly regulated financial system.
Snow said that in two decades of visiting China, he had noticed how China's top-class hotels had developed to rival the best in the world after foreign managers and managerial expertise were brought in by the big chains.
"We say, let's do the same with the financial sector."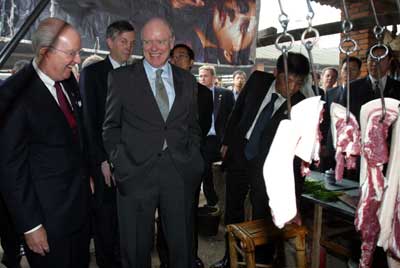 U.S. Treasury Secretary John Snow visits a pork market in Mulan township in Chengdu city, southwest China's Sichuan province, October 13, 2005. [Newsphoto]
On a side-trip during a two-stay in the remote western industrial city of Chengdu, Snow were greeted by hundreds of residents in Mulan, he his delegation inspected stalls of pork, live catfish and dried seaweed in the central market before visiting the offices of a rural credit union which extends loans to farmers.
"Developing a stronger consumer credit system in China will be important in helping to facilitate the further development of the country," he told reporters, stressing that China's "extraordinarily high" savings rate must be put to more productive use.
The United States hopes that if Chinese citizens can find ways of spending more of their savings, through more widespread use of credit cards for instance, China will bolster its domestic consumption and rely less on export growth to power its economy.
Likewise, Snow also argued greater currency flexibility from China might switch the focus from export-led growth by encouraging development and consumption at home.