China, US fail to break impasse in textile talks
By Dai Yan (China Daily)
Updated: 2005-10-14 05:51
China and the United States yesterday failed to solve the long-simmering textile dispute, an impasse described by industry experts as a "loss-loss" result which could see more categories of Chinese textiles facing restrictions.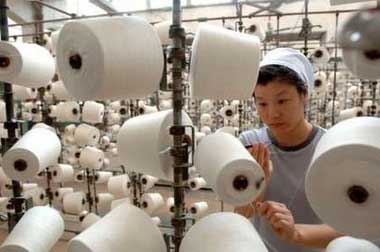 A Chinese worker inspects spools at a textile company in Hefei, east China's Anhui province October 12, 2005. China and the United States kicked off the sixth round of talks on textiles from October 12 to 13 in Beijing, Xinhua news agency reported. [newsphoto]
The first sign of disagreement came when the two-day sixth round of talks in Beijing ended before noon previous rounds of talks continued till late into the night or were prolonged by a day.
An official from the Chinese Ministry of Commerce said the talks had failed, and that a statement which was not available till late last night was being drafted.
US textile negotiator David Spooner said in a statement issued by the US Trade Representative's Office that the trading partners had failed to reach an agreement that meets the needs of US manufacturers and retailers.
"Our overall goal ... is to reach a longer-term solution that will permit greater stability in textile and apparel trade," it said.
"The US has been using its right under China's World Trade Organization accession agreement to invoke safeguards in cases of market disruption or the threat of market disruption, and we will continue to do so as appropriate."
Neither the Chinese nor the US side gave any indication of whether they had made any progress or the reason for failing to reach an agreement. Nor did they say whether another round of talks was scheduled.
The failure surprised both Chinese and US industries which had expected a deal yesterday since there were positive signs at the last round of talks at the end of September.
"The United States is sticking to a low rate in export growth which China cannot accept," said an industry insider close to the talks.
The agreement China inked with the European Union in June is the bottom line for the country, but the US stand is too rigid, he said.
China and the EU reached an agreement limiting annual export growth in 10 types of textiles to 8-12.5 per cent till the end of 2007.