AFP: Chinese astronauts board craft
(AFP)
Updated: 2005-10-12 08:33
Two Chinese astronauts boarded their space craft at dawn to prepare for liftoff on a five-day orbital mission marking the country's second manned trip into space, state media said.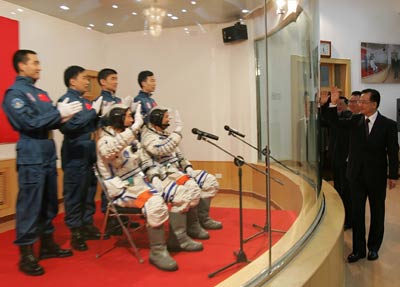 Premier Wen Jiabao waves to the six astronauts in the Jiuquan Satellite Launch Center early Wednesday morning. [Xinhua]
The Xinhua news agency said Shenzhou VI would lift off later Wednesday morning, and officials earlier told AFP it would launch at 9:00 am (0100 GMT).
Xinhua said air force pilots Fei Junlong and Nie Haisheng would fly the spacecraft. A state newspaper on Tuesday said Fei had been chosen in favour of Zhai Zhigang, who was dropped.
The astronauts headed to the launch site after a ceremony that included best wishes from Premier Wen Jiabao, who sent them off with "enormous warmth", Xinhua said.
"You will once again show that the Chinese people have the will, confidence and capability to mount scientific peaks ceaselessly," Wen said.
Snow was falling but stopped at about the time the astronauts entered their craft, Xinhua reported.
"We have made good preparations for the launch. Thorough tests and checkups show all indices meet design requirements," Wang Yongzhi, chief designer of the spacecraft, told Xinhua earlier.
"Now the rocket, spacecraft and various types of supporting facilities on the ground are in good condition. I believe this flight will be successful."
Wang said his team had worked to improve the reliability of the rocket that will take the Shenzhou VI into space since Shenzhou V's successful mission two years ago, which carried only one astronaut into space and only for a 21-hour mission during which he orbited the earth 14 times.
Like its first manned launch in October 2003, which made China only the third nation after the former Soviet Union and United States to send a man into orbit, this one will take place from the Jiuquan Satellite Launch Center.
A community of 15,000 served by everything from an Olympic-size swimming pool to a fast-food restaurant, it is located on the edge of the Gobi desert, several hours' drive away from Jiuquan city.
Wang Xiuqing, a 25-year-old Jiuquan resident who previously worked as a driver at the launch center, said he remembered the excitement at the center when Shenzhou V was launched two years ago in a cloud of fire and with a deafening roar.
The launch center is only rarely open to visitors, and this week it has been sealed off completely, with roadblocks in place and the military patrolling the area.
Undeterred by the strict controls, space enthusiasts from all over China started arriving here in groups as early as a week ago.
Hundreds of specially invited guests have also been pouring off trains in Jiuquan near the launch site to watch history unfold.
China's state television announced it would broadcast the launch live, reflecting confidence that it will go according to plan.
Foreign observers said China had good reason not to worry, as it was not taking any major risks with Shenzhou VI as compared with Shenzhou V.
"It's the same kind of spacecraft doing the same kind of thing, except that they must prove that their system can work for five days rather than just one day," said David Baker, a London-based space policy analyst with Jane's Defence Weekly.
The Shenzhou spacecraft is based on the robust and thoroughly tested Soviet design for the Soyuz vessel, and consists of three modules.
These include the orbital module where scientific experiments are carried out; the re-entry capsule where the astronauts will spend most of their time; and the service module, which contains fuel and air, solar panels and other technical gear.
Unlike its predecessor, the Shenzhou VI has a food heater, which means the astronauts can enjoy hot meals. Yang Liwei, the astronaut on China's first manned space mission, could only eat cold food. An "excrement collecting device" will also be used for the first time, Xinhua said.
Wang, the chief spacecraft designer, however, said China still lagged far behind the United States and Russia in aerospace science and technology but was fast catching up with its "leap-frog" development mode.
"Although more than 40 years late, our spacecraft is of the same technological level as their near-earth orbit spacecraft at present," he said.