Growing problem for China: aging population
By Yuan Wu (China Daily)
Updated: 2005-10-11 05:54
They looked youthful and healthy. They were graceful and energetic as they sang, danced and even strutted on the catwalk. They have even performed abroad.
If you did not look closely, you would not have believed that they were senior citizens - the oldest was 81 - putting on a performance to mark a traditional Chinese festival honouring the elderly.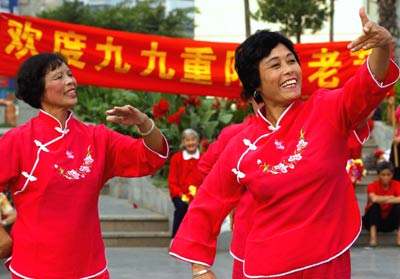 Elderly Chinese women perform in a community in Nanning, Guangxi Zhuang Autonomous Region Monday October 10, 2005. The performance was part of the activities in celebration of the Chongyang Festival. [Xinhua]
Sunday night's celebration was to mark the Chongyang Festival, which falls today, on the ninth day of the ninth lunar month.
However, their zest and zeal could not hide the fact that the country faces a growing problem with a greying population.
"The ageing problem has come to the fore not only earlier (than anticipated) but has also come about rapidly," said Hui Liangyu, vice-premier of the State Council, the Chinese cabinet, while paying a visit to a home for the aged in Beijing to mark the festival, Xinhua News Agency reported.
The number of citizens above the age of 60 will increase from the current 147 million to 174 million in 2010, representing about one-eighth (12.57 per cent) of the total population at that time. And in 2020, the number is expected to reach 243 million, accounting for one-sixth (or 17 per cent), according to figures from China's National Committee of Ageing.
The infrastructure and social services for the elderly do not meet the demand, said Li Bengong, vice-director of China's National Committee of Ageing, at a recent workshop on the 11th Five-Year Plan (2006-10).
For example, the pension system for senior urban citizens needs to be improved while there is not even one in place for rural people, he said.
Also, about half of people aged over 65 have hypertension, or high blood pressure, which poses a threat not only to their lives but also to economic and social development, an expert said on Sunday. "Cardiovascular and cerebrovascular diseases have become the No 1 killer, and high blood pressure is the foremost cause of the diseases," Hong Zhaoguang, a consultant with the Ministry of Health, was quoted by Xinhua as saying.
Hui, discussing the issue of ageing, said: "It will have a deep impact on the economy, society, culture and other areas."
(China Daily 10/11/2005 page1)