Countdown to second manned space mission
(AFP)
Updated: 2005-10-10 13:34
JIUQUAN - China is expected to launch its second manned space mission on Wednesday from a remote desert region, swelling national pride and leaving many foreign observers in awe at what the country has achieved.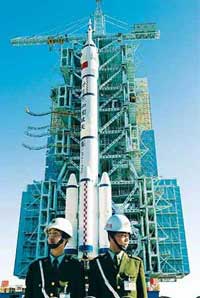 Shenzhou VI, a spaceship to carry two astronauts into orbit, sits atop of the LM-2F carrier rocket at the launching pad in Jiuquan satellite launch center in northwest China October 7, 2005. It is widely reported that China's second manned spaceship will be launched on October 13. [Nanfang Daily]

The launch of Shenzhou VI has been shrouded in secrecy and is subject to weather conditions, but an official from the technical department of the Jiuquan Satellite Launch Center said it will happen on Wednesday.

"It is October 12 at 9 am," the official, who refused to be named, told AFP.

The China National Space Administration could not confirm the date. However, a travel agent taking domestic tourists to witness the launch said he had been advised to be at the site early Wednesday morning.

The six astronauts shortlisted for the two-member mission have arrived at the launch pad in Inner Mongolia, the China News Service said, citing engineers at the launch center.

China's state-run press reported that Zhai Zhigang and Nie Haisheng would likely pilot the five-day mission.

It will be almost exactly two years after the successful October 15, 2003 launch of astronaut Yang Liwei into space, making China only the third nation after the United States and the former Soviet Union to accomplish such a feat.

"The Chinese should be very proud of what they are accomplishing," said David Baker, a London-based space policy analyst for Jane's Defence Weekly.

"It's the kind of activity that only a developed and well-organized industrial nation can pull off."

While the Shenzhou technology is based on 1950s and 1960s Soviet science, analysts said it would be wrong to shrug off China's space program.

"If it was easy, China wouldn't be the third country with a manned program," said Joan Johnson-Freese, an expert on Chinas space program at the US Naval War College.

"The technology isn't exactly breakthrough technology, but being able to put it all together and make it work, is sending a message that in fact China has integration skills, it has follow-through capability to build this kind of technology."