US takes patient tack on yuan policies
By Neil King Jr (Wall Street Journal)
Updated: 2005-10-10 10:43

Despite fresh political pressure to get tough again on China, US Treasury officials say they will take a patient line on China's currency policies during talks in Beijing this week.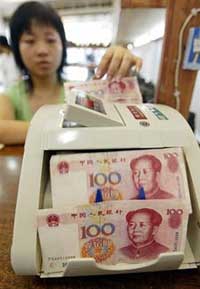 A Chinese shop assistant counts 100 Yuan bank notes at a shoes store in China's financial center Shanghai August 10, 2005. US Treasury officials say the US will take a patient line on China's policies on renminbi. [Reuters]

The Treasury Department claimed some credit for a diplomatic victory this summer, when China abandoned its currency's longtime fix to the dollar and bumped up its value. But the yuan has hardly moved in the nearly three months since then, despite China's promises to shift toward greater flexibility.

Groups like the National Association of Manufacturers are renewing their cry for a much bigger revaluation, while influential US lawmakers are threatening to return to legislation that would punish China if Beijing doesn't act. "We just can't sit by and twiddle our thumbs," said Frank Vargo, NAM's vice president for international economics. "This situation just keeps getting more serious."

US industry is hardly unanimous is calling for a higher-priced yuan. Many large US businesses -- from big retailers like Wal-Mart to US computer companies manufacturing in and exporting from China -- favor the current value of the Chinese currency, because it makes products coming to the US so much less costly.

Still, with Treasury Secretary John Snow arriving in China tomorrow (Tuesday) for his first visit in two years, the tussle over the yuan is again taking center stage. Mr. Snow is expected to address China's currency policy during meetings Saturday among the Group of 20 developing and developed countries, as well as during two days of bilateral US-China discussions starting Sunday that will include Federal Reserve Chairman Alan Greenspan and other top US officials.

Speaking Friday on CNBC, Mr. Snow said he planned to "press" the Chinese on the currency issue and to "let them know the importance of them acting soon."

The Treasury has been reluctant to resume too heavy a drumbeat over China's exchange-rate policy, which US officials and manufacturers have argued for years kept the yuan at an artificially low value, giving an edge to Chinese exporters. China's trade surplus with the US this year topped $107 billion through July, up 27% from the same span last year.

"I take them at their word that they will do what they have promised to do over time," said Timothy Adams, Treasury's undersecretary for international affairs, who will join Mr. Snow on the China trip.