Are the annual holidays really that golden?
By Zhu Zhe (China Daily)
Updated: 2005-10-08 06:55
Standing by the Dujiang Weirs, a world heritage site in Southwest China's Sichuan Province, 53-year-old Zhang Heping took a deep breath. "I've been here for five days," he said. "And I feel 10 years younger."
It is the first time that Zhang has been on holiday. As a model worker, he always worked extra shifts while others were enjoying their holidays. However, this year he realized that taking days off is a basic right that he should exercise.
"My daughter persuaded me that I should learn how to enjoy life instead of always being on duty," Zhang was quoted by Xinhua as saying. "I think she's right."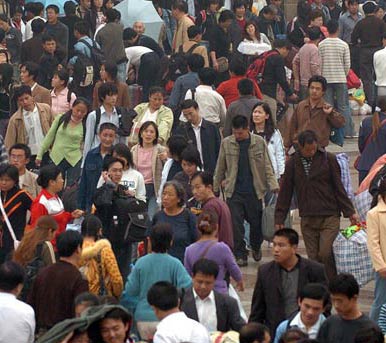 Passengers walk out of the Beijing Railway Station in the Chinese capital October 6, 2005. Millions of Chinese are on the move during the seven-day National Day holiday. [Xinhua]
It is the seventh year in a row that the Chinese Government has organised "Golden Week" holidays, which last for seven days, on National Day, May Day and Spring Festival. This has changed people's concept of holidays.
"With social developments and improving living standards, more and more Chinese think of holidays as one of their basic rights," said Xia Xueluan, a sociology professor at Peking University. "People always work for better lives so having rest and enjoying life are also desirable."
Zhu Tiezhi, a member of the editorial board of Qiushi Journal, shared the opinion. "In the past, devotion and selflessness were viewed as virtues," he said. "But today, more Chinese realize that their rights to have holidays are lawful."