Cold weather may postpone space mission
(AFP)
Updated: 2005-10-08 07:01
Unusually cold weather may force China to postpone the launch of its second manned space mission, scheduled for next week, the Modern Bulletin newspaper reported.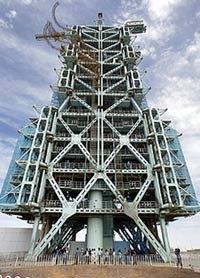 The rocket launch pad at the Jiuquan Satellite Launch Center on the edge of the Gobi desert in Jiuquan. [AFP]

The launch of the Shenzhou VI spacecraft from the Jiuquan Satellite Launch Center on the edge of the Gobi desert has been tentatively set for some time between Wednesday and Friday, the report said.

However, during those three days a cold current will be affecting the area, the paper said, citing Yao Bingdao, deputy meteorologist at the Jiuquan center.

"We're not very optimistic about the weather during the launch period that was set initially," he told the paper.

The paper quoted unnamed officials as saying a delay in the launch could not be ruled out, but that there could still be shifts in the weather in the coming days making it possible to stick to the original timetable.

The Shenzhou VI is now being prepared for its mission, which will take two astronauts into orbit for five days.

It is China's second manned space mission, following the Shenzhou V, which took astronaut Yang Liwei 14 times around the earth for a 21-hour period in October 2003.

Large parts of north China will see temperatures drop by 10 degrees Celsius (18 degrees Fahrenheit) next week.