Second manned space flight set on Oct 13
(chinadaily.com.cn/AFP)
Updated: 2005-10-06 08:44
HONG KONG - China will launch its second manned space flight at 11:00 am (0300 GMT) on October 13.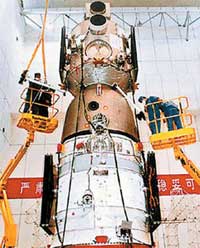 Technicians make final examinations and tests of China's second manned spaceship Shenzhou VI at Jiuquan satellite launch center in Gansu Province.

"We expect (to launch the flight) on October 13 if weather permits," said Jiang Jingshan, a member of the Chinese Academy of Engineering who was involved in the first flight.

The launch date for Shenzhou VI could change according to weather conditions, Jiang said on local radio.

It is reported that Shenzhou VI spaceship was successfully connected to the Long March 2F rocket Tuesday afternoon at the Jiuquan satellite launch center.

He said two astronauts have been selected to orbit Earth for five days, expanding on the 21-hour flight of Shenzhou V which circled Earth 14 times in 2003.

Jiang did not disclose the names of the astronauts who are expected to conduct experiments in the flight module and an orbital vehicle that will remain in space for months after the astronauts return to earth.

The Shanghai Morning Post reported last month that Zhai Zhigang and Nie Haisheng were the likely candidates to be chosen to pilot the flight.

It also reported the Shenzhou VI would take off from the Jiuquan launch center in northwest China's Gansu Province and is expected to land in the vast grassland in Inner Mongolia.

The entire rocket, including the return capsule and an orbiting vehicle, has reportedly been assembled and is standing at the Jiuquan launch pad.

China's first man in space Yang Liwei, who became a national hero and received rock star treatment after his Shenzhou V flight, was named as sole astronaut of the inaugural manned flight only hours before the launch.

Press reports say Yang has arrived at the Jiuquan center, but as he said before, he would not be a candidate astronaut this time.

China, the third country to put a man in space following the former Soviet Union and the United States, hopes to launch a mission to probe the moon by 2007 and land an unmanned vehicle on it by 2017.