CPC to convene 5th plenary session tomorrow
(chinadaily.com.cn/Xinhua)
Updated: 2005-10-06 11:35
China's ruling Communist Party has listed building a harmonious society as a strategic goal to ensure stability while seeking continuous economic giant steps in carving out its next five-year growth plan.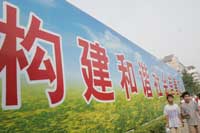 People walk past a poster calling for building up a social harmony in Xidan, a bustling business area in downtown Beijing in this August 29, 2005 file photo. [newsphoto]

The 300-strong Party Central Committee will convene its fifth plenary session in Beijing this weekend, scheduled from October 8-12, to discuss ways to thwart growing disharmonious elements, such as growth disparity between developed coastal provinces and underdeveloped west, rising gap of the haves and have-nots, urban environmental pollution, and corruption.

It is timely for China's top leadership to consider a course revision to prevent the horse-cart not to be rocked over, experts said.

The idea of building a harmonious society marks the maturity of the Chinese Communist Party as a ruling party with serving the people as its guideline, they said.

"The construction of a harmonious society" was initiated by Chinese President Hu Jintao, who, while addressing a high-level seminar at the Party School of the Communist Party of China (CPC) Central Committee in February, urged the state and Party leaders to prioritize social harmony on their agenda.

In Hu's words, "A harmonious society should feature democracy, the rule of law, equality, justice, sincerity, amity and vitality."

This focus shift is timely, as many observers point out, as China is confronted with increasingly acute potential social unrest caused by disparity in development and distribution, inequality, injustice, and corruption, the official Xinhua News Agency reported.





| | |
| --- | --- |
| | |
| Beijing embraces traffic peak | |

| | |
| --- | --- |
| | |
| Piggy swimming contest | |

| | |
| --- | --- |
| | |
| Books galore | |
Today's Top News
Top China News

Washington pressures Beijing for further currency moves




Exports buoyant as trade volume rockets




BBC: Bush said God told him to invade Iraq




US, China textile talks resume next week




Flooding forces huge evacuation in Shaanxi




Survey: Sino-Japanese ties at low point