Google, Sun team up to challenge Microsoft
(Xinhua)
Updated: 2005-10-05 12:34
Web search giant Google and Sun Microsystem announced a multi-year partnership on Tuesday to help spread and develop each other's software.
According to their agreement, the alliance will begin modestly. The Google toolbar will become a standard part of the software people get when they download Java from Sun's Web site, Sun Chief Executive Scott McNealy said in Mountain View, California.
Sun also will benefit from the toolbar bundling. "There is direct monetary value for us from being a distribution mechanism for the toolbar," said John Loiacono, Sun's executive vice president of software.
Google will significantly increase its purchasing of Sun servers, though neither company would say which models.
The partnership matches two companies with a shared vision of aworld being remade by ubiquitous computer networks. Sun wants to provide the back-end infrastructure such as servers at Google, and Google wants to be part of the daily lives of everyday computer users.
The companies envision further software distribution deals, too,a partnership which Schwartz believes will become more significantas network bandwidth increases and its costs decrease. "We're talking about putting our assets together so we can leverage each other's distribution," Schwartz said.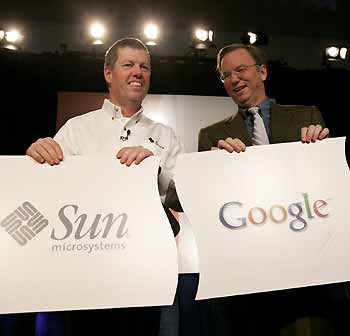 CEO of Sun Microsystems Scott McNealy (L) and Google CEO Eric Schmidt pose for photographers after a news conference in Mountain View, California October 4, 2005. Google Inc. will promote Sun Microsystems Inc's word processing and office software products in an alliance announced on Tuesday that could mark a first stop toward challenging Microsoft Corp's dominance of the computer users' desktops. [Reuters]

Many elements of the partnership remain secret, but Sun executives offered some hints and details.

The companies will conduct joint research and development and joint marketing, Loiacono said, adding that Google will increase its involvement in the Java Community Process and other technologies.

The financial terms of the deal also remain undisclosed, but McNealy indicated that sizable sums could become involved. "There's going to be a lot of money flowing both ways, if we do this thing right," he said.

The collaboration will be fruitful, according to Michael Dortch,an analyst at Robert Frances Group.

"This is driven at a more grassroots level at both companies," which both promote open-source software, sharing and participation,he said. "I'm confident other stuff will come quickly. There's toomuch money and reputation on the line."

But the software the companies are working on all directly challenge their common rival Microsoft, Dortch and other analysts said. Google CEO Eric Schmidt avoided any mention of the coming competition.

Microsoft executives declined to comment on Tuesday's announcement.




| | |
| --- | --- |
| | |
| Building blast kills one, injures 3 in Istanbul | |

| | |
| --- | --- |
| | |
| Bali bombings kill 25, 100 injured | |

| | |
| --- | --- |
| | |
| US millionaire ready for space trip | |
Today's Top News
Top World News

Typhoon Longwang kills 65, dozens missing




CCB plans up to US$7.64b in IP0 - sources




Japan ready to resume talks with China




Super-efficient nuke reactor set for trial




Snow expected in Beijing for talks




Poor management blamed for mine blast