Iran ready to reopen talks with Europeans
(AP)
Updated: 2005-10-05 10:23
Iran reiterated Tuesday that it was ready to reopen talks with Europeans over its nuclear program, which Washington says is aimed at producing a nuclear bomb.
Foreign Ministry spokesman Hamid Reza Asefi also suggested that the uranium gas Iran has produced is low quality and needs purification before it can be injected into centrifuges to enrich uranium. Iran says it needs to enrich uranium to produce fuel for its future nuclear power plants.
Talks between Britain, Germany and France ¡ª which negotiated on behalf of the 25-nation European Union ¡ª and Iran collapsed in early August after Iran resumed uranium reprocessing activities at its Uranium Conversion Facility in Isfahan, in central Iran. Tehran had suspended uranium conversion work under a November 2004 deal with the European nations.
"Iran has no problem with resuming negotiations, but the Islamic Republic of Iran doesn't accept pressure and conditional talks," Asefi said at a news conference.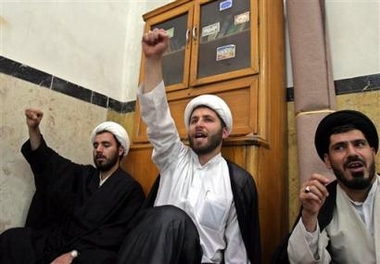 Iranian clerics chant slogans during a demonstration at the Marvi religious school in Tehran to support Iran's nuclear program, on Tuesday Oct. 4, 2005. [AP]

The Europeans have said in the past that negotiations would not resume unless Iran stops uranium reprocessing in Isfahan. Tehran says it will never again stop uranium conversion but is ready for dialogue.

Last month, the International Atomic Energy Agency passed a resolution warning Iran that it would be referred to the U.N. Security Council unless it allayed fears about its nuclear program. In response, Iran has threatened that unless the IAEA backs down, it will resume uranium enrichment, block short notice intrusive inspections of its nuclear facilities and cut trade with countries that supported the resolution.

Uranium enrichment does not violate the terms of the Nuclear Nonproliferation Treaty, to which Iran is a signatory. But with world suspicions high following 18 years of nuclear secrecy by Tehran, key IAEA members, including the U.S. and European nations, want Iran to scrap enrichment plans. Tehran has refused.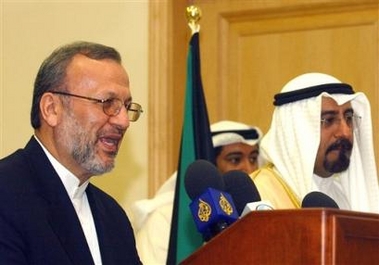 Iran's Foreign Minister Manouchehr Mottaki, left, talks to journalists during a press conference in Kuwait City, Tuesday, Oct.4, 2005, as Kuwait's Minister of Foreign Affairs Sheikh Mohammed Al Sabah, right, looks on.[AP]

Also Tuesday, Asefi hinted that production of low-quality uranium gas at early stages was natural for a program like the one pursued by Iran but said his country needs to encourage its scientists and complete its uranium enrichment program.

Iran has said in the past that it has already achieved proficiency in the whole nuclear fuel cycle ¡ª from extracting uranium ore to enriching it.

Diplomats accredited to the International Atomic Energy Agency confirmed last week that tons of uranium gas Iran has produced since it resumed uranium conversion in August was contaminated and unusable as feedstock for enrichment.

"Initially, things are at the preliminary level, then, after duration of time, are completed. This is not an exception (in our case)," Asefi said when asked if Iranian uranium gas was of low quality.