Japan's Koizumi to reshuffle cabinet in Nov - paper
(Reuters)
Updated: 2005-10-05 10:17
Japanese Prime Minister Junichiro Koizumi has decided to reshuffle the cabinet and key posts in his ruling party next month when the current parliamentary session ends, a financial daily reported on Wednesday.
The personnel move will be closely watched for clues on possible successors to Koizumi as the prime minister has said he plans to appoint potential candidates to key positions.
The Nihon Keizai (Nikkei), quoting government and ruling party officials, said Koizumi would name the new executives of the ruling Liberal Democratic Party (LDP) on November 1 when the special session of parliament closes, and pick new cabinet ministers the following day.
The Nikkei did not name any likely appointments, but Koizumi last week dropped what may be a hint on who would succeed him after his term ends next September.
Japanese media quoted Koizumi as saying in a wedding speech for a daughter of a former aide: "Isn't this a very rare wedding party. We have here a former prime minister, the current prime minister, and the next prime minister."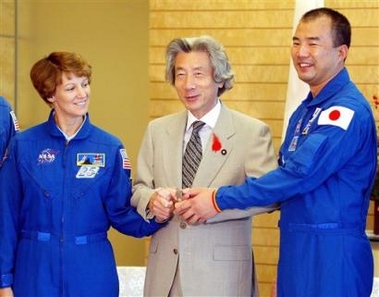 Space Shuttle STS-114 crew, U.S. commander Eileen Collins, left, and Japanese specialist Soichi Noguchi, right, shake hands with Prime Minister Junichiro Koizumi at Koizumi's official residence in Tokyo Monday, Oct. 3, 2005. [AP]

The reception was attended by LDP lawmakers Shinzo Abe and Yasuo Fukuda, who are seen as the two front-runners in the race to succeed Koizumi.

In a survey published last week by the Yomiuri newspaper, Abe, a former LDP secretary-general, topped the list of lawmakers whom voters wanted to succeed Koizumi, winning 55 percent of support among respondents.

Fukuda, who was once the top government spokesman under Koizumi, came a distant second at 9 percent.

Koizumi re-appointed all members of the cabinet following a landslide victory for the LDP in last month's general election, which he had portrayed as a referendum on his policy of privatizing the postal system.

The prime minister had said he would reshuffle the cabinet after parliament passed the postal privatization bills and its session ended.




| | |
| --- | --- |
| | |
| Building blast kills one, injures 3 in Istanbul | |

| | |
| --- | --- |
| | |
| Bali bombings kill 25, 100 injured | |

| | |
| --- | --- |
| | |
| US millionaire ready for space trip | |
Today's Top News
Top World News

Typhoon Longwang kills 65, dozens missing




CCB plans up to US$7.64b in IP0 - sources




Japan ready to resume talks with China




Super-efficient nuke reactor set for trial




Snow expected in Beijing for talks




Poor management blamed for mine blast