Pakistan questions captured 'voice of Taliban'
(AFP)
Updated: 2005-10-05 10:10
Pakistani interrogators were questioning the shadowy chief spokesman of Afghanistan's hardline Islamic Taliban militia a day after his arrest, officials said, AFP reported.
Security forces seized Abdul Latif Hakimi, who often spoke to international media to claim responsibility for attacks on US and Afghan forces, in a raid on a house in the southwestern city Quetta.
"We are questioning him to find about his contacts and where he got his information from," a senior security official told AFP, speaking on condition of anonymity because he was not authorised to discuss the arrest.
The official said "communication intercepts" had led to the arrest of the Taliban mouthpiece, who used a mixture of satellite phones and Afghan and Pakistani cellphones to talk to reporters.
Information Minister Sheikh Rashid said Tuesday that Hakimi was an "important catch" and said authorities expected to get useful information from the Taliban spokesman.
He said Hakimi was caught in the southwestern province of Baluchistan, which borders Afghanistan, while police sources said the arrest was in the provincial capital Quetta.
Interior Minister Aftab Sherpao said the capture of Hakimi was a "big success for law enforcement agencies."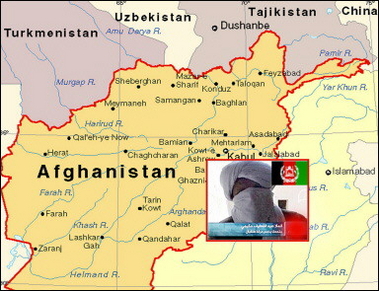 A picture of Taliban chief spokesman Abdul Latif Hakimi is shown here with a map of Afghanistan. [AFP]

The arrest is likely to help improve relations between Kabul and Islamabad, who have clashed about whether Pakistan was doing enough to tackle militants on its territory.

Many Taliban rebels and their Al-Qaeda allies fled into Pakistan after the hardline regime was toppled by a US-led invasion for failing to hand over Osama bin Laden after the September 2001 attacks.

Earlier this year Afghan and US officials said Hakimi was in hiding in Quetta.

Hakimi's precise connection to the Taliban remains unclear. His information was often found to be exaggerated or untrue but he was usually the only source of information about attacks other than the US military and Afghan officials.

In recent months he appeared to become more reliable, giving accurate information on the shooting down of a US helicopter in eastern Afghanistan in June and the abduction of a British engineer in August.

Afghan President Hamid Karzai's spokesman Khaleeq Ahmad said Kabul was "grateful" and hoped the arrest would lead to the capture of more militants. The defence ministry said it was a positive step in the fight against terrorism.

Pakistan did not say if it would hand over Hakimi to Afghan authorities. Islamabad formerly supported the Taliban but then sided with the United States after the September 11 attacks on New York and Washington

"We would first like to interrogate him for his network and links here and then we will decide about the question of extraditing him," another Pakistani security official said, on condition of anonymity.

The Taliban have waged an insurgency for the last four years. This year has been the worst since 2001, with more than 1,300 people dying so far, including a number of militants.




| | |
| --- | --- |
| | |
| Bali bombings kill 25, 100 injured | |

| | |
| --- | --- |
| | |
| US millionaire ready for space trip | |

| | |
| --- | --- |
| | |
| Los Angeles fire | |
Today's Top News
Top World News

Typhoon claims 65, dozens missing




CCB plans up to US$7.64b in IP0 - sources




Japan ready to resume talks with China




Super-efficient nuke reactor set for trial




Snow expected in Beijing for talks




Poor management blamed for mine blast