US troops seek to retake western Iraq towns
(AP)
Updated: 2005-10-05 09:19
U.S. troops pushed through streets sown with bombs Tuesday in their biggest operation this year in western Iraq, seeking to retake three Euphrates River towns from al-Qaida insurgents. At least five U.S. service members have been killed in the fighting.
Operation River Gate ! launched at the start of the holy month of Ramadan ! was the second U.S. offensive in a week in Anbar province, near the Syrian border. Al-Qaida in Iraq called for intensified attacks on U.S. and Iraqi forces during the Muslim period of fasting, which started Tuesday for the nation's Sunnis.
Blasts from U.S. warplanes and helicopters lit up the sky during the fighting, aimed at putting down Sunni-led insurgents intensifying their campaign of violence ahead of an Oct. 15 vote on Iraq's new constitution.
As with the earlier U.S. offensive ! code named Iraq Fist ! it appeared many fighters may have slipped away beforehand.
On the political front, U.S. and U.N. officials were trying to avert a Sunni Arab boycott of the referendum, which would deeply undermine the validity of a constitution Washington hopes will unite Iraq's factions and weaken the insurgency.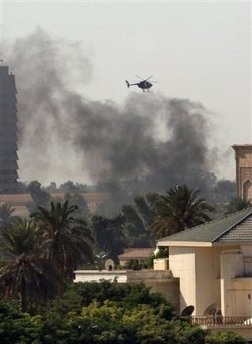 A US helicopter hovers as a plume of black smoke rises from the edge of the Green Zone, the heavily guarded area where foreign embassies and Iraq's parliament are based, in Baghdad, Iraq, Tuesday, Oct. 4 2005, following an explosion. [AP]

Officials met Tuesday with Shiite and Kurdish leaders to persuade them to reverse the Shiite-led government's last-minute change to voting rules ahead of the Oct. 15 vote. Sunday's change makes it almost impossible for minority Sunnis to reject the constitution ! all guaranteeing its passage.

Sunni Arab leaders have opposed the draft constitution all along, but the United States wants them to participate in the vote.

Late Monday and early Tuesday, some 2,500 U.S. troops along with Iraqi forces launched their operation with a powerful air assault on Haditha, Haqlaniyah and Parwana, about 140 miles northwest of Baghdad.

Dozens of helicopters streamed toward the Euphrates towns in a phalanx, seen by an Associated Press reporter. Rockets fired by choppers flashed in the pre-dawn darkness, followed by explosions and arches of tracer fire.

At least twice, illuminating flares went up over Haqlaniyah ! a sign U.S. troops were fighting insurgents on the ground.

American warplanes struck bridges to prevent al-Qaida in Iraq fighters from escaping the towns, but arriving troops encountered dozens of roadside bombs on main avenues, apparently in anticipation of the operation, Marine commanders said.

A single roadside bomb in Haqlaniyah on Monday killed three U.S. service members, apparently among the first ground troops to move in.

U.S. snipers took positions on rooftops in Haqlaniyah as troops with loudspeakers ordered residents to stay inside, witnesses said.

In Haditha, mosque loudspeakers urged residents to confront the Americans, but Marines said they encountered little resistance.

"Some of them may have gotten away. But those that are here, we'll get them," said Capt. Shannon Neller, of New York, commander of Lima Company in 3rd Battalion, 1st Marine Regiment.

Troops were concentrating on "systematically clearing" Haditha by doing house-to-house searches and locating bombs planted around town, Neller said.





| | |
| --- | --- |
| | |
| Bali bombings kill 25, 100 injured | |

| | |
| --- | --- |
| | |
| US millionaire ready for space trip | |

| | |
| --- | --- |
| | |
| Los Angeles fire | |
Today's Top News
Top World News

Typhoon claims 65, dozens missing




Super-efficient nuke reactor set for trial




Snow expected in Beijing for talks




Poor management blamed for mine blast




Americans, German win Nobel physics prize




Bats passed SARS to civet cats: Expert