Typhoon Damrey toll hits 120, Vietnam suffers most
(Reuters)
Updated: 2005-09-30 14:37
The death toll from Typhoon Damrey and the flash floods it spawned in several Asian countries rose to at least 120 on Friday.
The official Vietnam News Agency said all 51 people swept away by flash floods in the northern province of Yen Bai, 180 km (110 miles) northwest of Hanoi, had died although a provincial disaster official told Reuters only 33 bodies had been found.
China, where Damrey caused huge damage on the southern island of Hainan, raised its toll from 16 to 25 and Thailand said two more people had been killed in flash floods in the north, taking its total to nine.
While Damrey -- Khmer for elephant -- killed only five people as it roared ashore in northern Vietnam on Tuesday, 65 people were killed by flash floods as it also lashed parts of Laos and northern Thailand with torrential rain.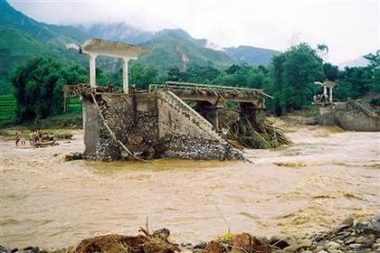 A view of a bridge destroyed by flash floods in Vietnam's northern Yen Bai province, 180 km (110 miles) northwest of Hanoi, September 28, 2005. [Reuters]

The Philippines reported 16 deaths in Damrey's rampage across its main island of Luzon while the official Xinhua news agency quoted a Chinese official as saying it caused economic losses of 11.6 billion yuan.

Damrey nearly wiped out the aquaculture industry on Hainan and damaged the power grid and rubber plantations there, Xinhua quoted the official as saying.

On Thursday, Vietnam Communist Party General Secretary Nong Duc Manh toured Yen Bai and urged officials to speed up the distribution of relief.

Prime Minister Phan Van Khai told provincial governments to evacuate people in areas at risk from landslides and flash floods.

Meanwhile, more than 2,400 people have been evacuated for a second time in Thanh Hoa province, one of the two provinces where Damrey landed, as rivers swelled and breached sea dykes still posed a danger.

About 330,000 people were evacuated in advance of the typhoon's arrival.

More than 10,400 homes and schools in Vietnam were destroyed or damaged. Damrey also shattered nearly 120 km (75 miles) of dykes built to protect rice fields from the sea, the government's Committee for Flood and Storm Prevention said.

Power supplies and telecommunications were hit when the typhoon landed blowing at more than 130 kph (80 mph) and a preliminary government estimate put losses at 699 billion dong.

State television said salt farmers on the northern coast, where the typhoon struck, were without food and local authorities had run out of stocks of noodles.

Rice, instant noodles and bottled water have been rushed to flood-hit areas while state media said cholera -- a disease caught from polluted water -- had broken out in many places and the Health Ministry was sending experts and medical aid.

Workers were repairing dykes to help farmers finish harvesting rice in a region which is Vietnam's second-most important producer of the staple food after the Mekong Delta in the south.

The typhoon did not hit the Central Highlands coffee belt further to the south and had no impact on crude oil output as Vietnam's offshore rigs are well to the south.




| | |
| --- | --- |
| | |
| Australia fending off bird flu | |

| | |
| --- | --- |
| | |
| Massive Indonesian vaccination drive against polio resumes | |

| | |
| --- | --- |
| | |
| Hurricane Rita aftermath in the United States | |
Today's Top News
Top World News

No US-China textile deal; more talks in October




CPC to hold plenum in Beijing October 8-11




Court: Koizumi shrine visits unconstitutional




New flu pandemic could kill 150 million




American DVD piracy convict deported home




Laundering legislation to spread net wider