Court: Koizumi shrine visits unconstitutional
(AP)
Updated: 2005-09-30 14:23
TOKYO - A Japanese court Friday ruled that Prime Minister Junichiro Koizumi's visits to a Tokyo war shrine violated the constitution, but rejected a group of Taiwanese plaintiffs' demands for compensation.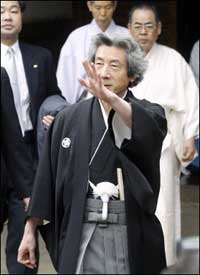 Prime Minister Junichiro Koizumi waves to welwishers as he leaves the controversial Yasukuni shrine in Tokyo in this file photo. A Japanese court ruled that Koizumi's visits to the war shrine violated the constitution, in a moral victory for victims of Japan's war-time aggression. [AFP]

The Osaka High Court said Koizumi's worshipping at Yasukuni shrine ¡ª which critics say glorifies Japan's past militarism ¡ª is a public act and therefore violates the constitutional separation of state and religion, a lawyer for the plaintiffs said.

It was not immediately clear whether the ruling had the force to prevent further visits, but the plaintiffs and their supporters said the decision was a watershed. It was the second time in the past 18 months that a Japanese court has ruled such visits unconstitutional.

"This is groundbreaking, a landmark ruling," Mitsunori Nakajima, a lawyer for the plaintiffs, told The Associated Press from the western city of Osaka. "Most important was the recognition that Koizumi's visits were clearly carried out in a public capacity."

The government was disappointed.

"I don't understand why my visits to Yasukuni violate the constitution," Koizumi said at a parliamentary session following the ruling. "I'm paying my respects to those who died in the war, with the conviction that we must never wage such a war again."

"I visit Yasukuni as a private citizen, and as Prime Minister, but not in a public capacity," he added.

The court rejected compensation demands of $88 by each of the 188 plaintiffs, who included a Taiwanese lawmaker and bereaved families of World War II veterans from Taiwan, many of them enshrined at Yasukuni against the families' wishes, according to court spokesman Masaharu Otani. Taiwan is a former Japanese colony.

"We're not satisfied with today's ruling, though it did take one little step forward," said Taiwanese lawmaker May King, one of the plaintiffs. "We urge the Japanese government to take three or four steps forward," she said.





| | |
| --- | --- |
| | |
| Australia fending off bird flu | |

| | |
| --- | --- |
| | |
| Massive Indonesian vaccination drive against polio resumes | |

| | |
| --- | --- |
| | |
| Hurricane Rita aftermath in the United States | |
Today's Top News
Top World News

No US-China textile deal; more talks in October




CPC to hold plenum in Beijing October 8-11




Court: Koizumi shrine visits unconstitutional




New flu pandemic could kill 150 million




American DVD piracy convict deported home




Laundering legislation to spread net wider