U.S. happy with China yuan moves, wants more
(Reuters)
Updated: 2005-09-29 07:09
The United States is pleased with China's currency steps but wants Beijing to move faster toward a free-floating yuan, US Treasury Secretary John Snow said on Wednesday.
Speaking on CNBC television, he said the Treasury's special envoy to China, Olin Wethington, would be stepping down and returning to private life and there would be an announcement soon relating to the diplomatic dialogue with Beijing.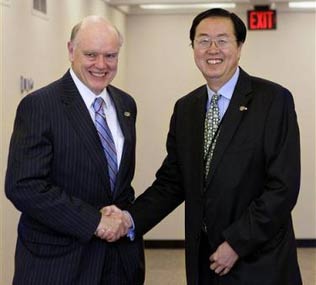 People's Bank of China Governor Zhou Xiaochuan and US Treasury Secretary John Snow shake hands before they hold private talks at International Monetary Fund Headquarters in Washington, Saturday, Sept. 24, 2005.[AP]
Wethington, assistant secretary for international affairs at the Treasury in 1991-92, was appointed in May to be a direct conduit between the United States and Beijing on exchange rates and financial markets. He was charged with consulting with Asian governments, the Group of Seven wealthy countries and the International Monetary Fund on China issues.
Snow called Beijing's July shift away from a direct peg to the US dollar "a historic step."
"They also did a modest revaluation at that time and they expressed a commitment to allowing the yuan to move in accordance with demand and supply. That's precisely what they should do -- they should let their currency reflect underlying market forces," he said.
"It's going to take some time for them to implement that decision. I am confident they will. We're urging them to move faster," he added.
When asked about US interest rates, Snow said rates would stay low as long as US inflation stayed in check.
"I think as long as we keep inflation down -- and we're doing a good job with that -- we'll see lower interest rates because interest rates tend over time to reflect inflation," he said.
| | |
| --- | --- |
| | |
| Chinese embrace upcoming National Day | |

| | |
| --- | --- |
| | |
| Nanjing International Auto Show | |

| | |
| --- | --- |
| | |
| 56th anniversary of the founding of PRC | |
Today's Top News
Top China News

China-U.S. textile talks end without agreement




U.S. happy with China yuan moves, wants more




China share prices rebound; Yuan up




Roberts to be confirmed as U.S. Chief Justice




U.S.: EU slow to freeze terrorist assets




Taipei urged to respond to panda goodwill