Damrey kills 9, wreaks havoc in Hainan
(China Daily/AP)
Updated: 2005-09-27 06:06
Typhoon Damrey slammed into South China's resort island of Hainan on Monday, killing at least nine people, collapsing houses and sweeping away rice, rubber and banana crops.
It was the strongest typhoon to hit the island in more than 30 years.
Nine people in five cities were confirmed dead, with six of the victims were older than 60, including a woman whose house collapsed upon her in Wanning, Xinhua News Agency said. Another woman was killed by a falling wall while closing up her house.
Winds roared up to 180 kilometres per hour - about twice as strong as those of Hurricane Rita in the United States - before moving off Hainan's western shore.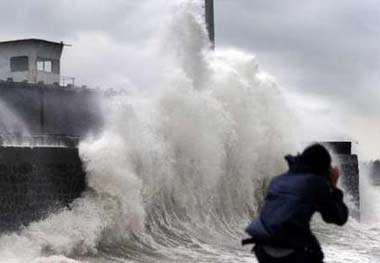 Waves caused by Typhoon Damrey hit a dock as a resident walks by in Haikou, south China's Hainan province, September 25, 2005. [newsphoto]
Behind it was devastation that authorities and residents will deal with Tuesday.
Haikou, the provincial capital, suffered a large-scale blackout caused by damage to high-tension cables and the power grid. A spokesman for the Hainan Power Grid Company said the storm and its effects made any immediate rush to repair impossible.
All the city's filling stations closed because of the blackout. Main arteries and other roads were blocked by trees that Damrey uprooted. Local transport ground to a standstill.
The cancellation of dozens of flights left 5,000 people stranded at the airport in Haikou.
"It's the first time that I've seen such a strong typhoon in Haikou. It was really scary," said Chen Yue'e, a Haikou resident. "I didn't leave the apartment after Sunday afternoon. The howling wind and the power loss made me sleepless the whole night."
Sea water flooding invaded residential areas in low-lying areas.
"The sea water reached the knees of some of my first-floor neighbours, and their furniture was soaked," said another Haikou resident, who gave only his surname, Sheng.
In all, 212,000 people were evacuated, Hainan officials said.
Tropical fruit trees, such as banana trees, were blown down on a large scale on the island, which is about half the size of Ireland. Crop fields were flooded. In Qionghai, about 3,333 hectares of rice had not been harvested before the storm hit.

| | |
| --- | --- |
| | |
| Yao Ming, Liu Xiang named Shanghai image representatives | |

| | |
| --- | --- |
| | |
| Li Ao in Shanghai | |

| | |
| --- | --- |
| | |
| Fire breaks out at commercial building in Changsha | |
Today's Top News
Top China News

Countdown to second manned space launch




Damrey kills 9, wreaks havoc in Hainan




'Anti-war Mom' arrested outside White House




China, India discuss border in Beijing




US, China try again for textile pact




497 officials retract stakes in coal mines