Japan PM says to enact postal reform by Nov 1
(Reuters)
Updated: 2005-09-26 15:45
Backed by a landslide election victory, Prime Minister Junichiro Koizumi told parliament on Monday he is determined to push ahead with privatizing Japan's postal system and other reforms.
But his policy speech to the lower house was short on details of pressing issues including ties with other Asian nations and reforming Japan's pension system to cope with an aging society.
Koizumi said voters had given him a mandate to privatize the postal system, the centrepiece of his reform agenda.
"With the strong backing of the public, I will re-submit the postal privatization bills ... and am determined to see their enactment," Koizumi said.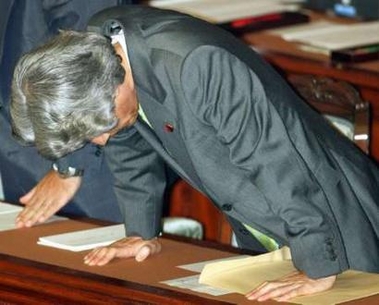 Japanese Prime Minister Junichiro Koizumi makes a deep bow upon delivering a policy speech at parliament in Tokyo September 26, 2005. [Reuters]

Koizumi's Liberal Democratic Party (LDP) won a commanding 296 seats in the 480-seat lower house in the September 11 election, called after LDP rebels voted with the opposition in the upper house to kill the postal reform bills.

He had cast the election as a referendum on the privatization of Japan Post, a financial services giant with $3 trillion in assets, and has resolved to have postal reform bills passed by the time the special parliament session ends on November 1.

"The people have resurrected the bills which had once died," he told a meeting of economic ministers prior to the session.

The bills, whose contents are the same except for a six-month delay in the target date for privatization, are expected to be enacted next month.

The legislation is likely to also be passed by the upper house, as many of the LDP rebels who previously voted against the bills have said they will now support them.

Even if the upper house were to vote them down again, enactment is ensured given that the LDP and its junior coalition partner have over two-thirds of the seats in the more powerful lower house, enough to override any upper house decision.

SHORT ON DETAILS

Koizumi also said he would tackle reform of semi-governmental financial institutions. Analysts have said consolidating the lending bodies, which use funds amassed through the postal system, is vital to completing the privatization process.

But in the 14-minute speech, the shortest of its kind in over two decades, Koizumi stopped short of presenting detailed steps.

He said reforms were needed to make the nation's pension system sustainable and reiterated that he would push ahead with fiscal reforms, including cutting government payrolls.

Koizumi said oil price rises were a concern not only for oil importers like Japan but also Southeast Asian nations. Japan has released oil reserves to ease a supply crunch and will keep cooperating with other nations to avoid an oil shock, he said.

On ties with Asian neighbors, including China and South Korea, hurt by Koizumi's annual visits to a Tokyo shrine seen as a symbol of Japan's past militarism, he said only that he would seek to build a "future-oriented" friendly relationships.

Koizumi also reiterated the goal of normalizing diplomatic ties with North Korea after resolving the issues of Japanese nationals abducted by North Korean agents decades ago, as well as Pyongyang's nuclear programs and missile development.

Japan and North Korea agreed last week to soon resume talks, stalled since November 2004, on improving bilateral ties.

On Iraq, where Japan has sent about 600 troops on a humanitarian and reconstruction mission, Koizumi only said he would decide whether to extend their stay when the mandate expires in December taking into account the situation where they are stationed in southern Iraq.




| | |
| --- | --- |
| | |
| Hurricane Rita aftermath in the United States | |

| | |
| --- | --- |
| | |
| Poles vote in parliamentary election | |

| | |
| --- | --- |
| | |
| Israeli troops arrest 207 suspected Islamic millitants in West Bank | |
Today's Top News
Top World News

Next space mission planned for October 13, report says




Biggest typhoon in 30 years batters Hainan




Central bank considers yuan market makers




HK legislators start historic mainland visit




China, India set for fresh border talks




China sees economy growing 9.2 pct in 2005