Biggest typhoon in 30 years batters Hainan
(Reuters)
Updated: 2005-09-26 11:48
A typhoon roared across China's southern Hainan on Monday, the strongest storm to hit the tropical resort island in more than 30 years, and forced more than 170,000 people to flee their homes.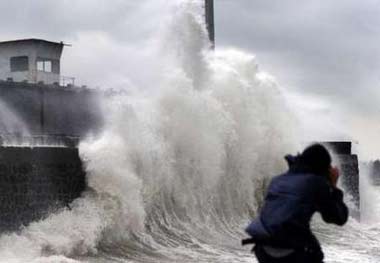 Waves caused by Typhoon Damrey hit a dock as a resident walks by in Haikou, south China's Hainan province, September 25, 2005. The strongest typhoon to hit China's southern tropical island of Hainan since 1973 swamped two villages on Monday after forcing the evacuation of thousands, the official Xinhua news agency said. Picture taken September 25, 2005. [Newsphoto]
Typhoon Damrey had caused "casualties," flattened houses and damaged crops on an island often referred to as China's Hawaii since it made landfall on Sunday, but the full extent of the destruction was unknown, a disaster relief official said.
"The primary threat now is strong winds, but judging from our experience in recent years, river floods are also possible if the heavy rains continue," he told Reuters by telephone.
He gave no details of the casualties and there was no immediate word of damage to hotels. But he said 170,000 people had been evacuated to safety.
"Some tourists who have reserved rooms cannot check in because of the weather and those already in the hotel cannot leave," said Melody Xu, public relations manager for the Sheraton Hotel in the beach resort of Sanya.
"The hotel is on back-up power. Some rooms have no power and the computer system is down, so I really have no idea of how full the hotel is now... We hope the storm will be over after dinner tonight and the guests can leave then, but it shows no sign of weakening so far."
The west-moving typhoon was expected to sweep the island throughout Monday and then head for Vietnam, south of the capital, Hanoi. Experts warned that rice, rubber and banana crops could suffer major damage.
In far southern Guangdong province, one fisherman was missing after three boats capsized in choppy seas.
A ferry connecting Guangdong and Hainan had been suspended since Friday, and some parts of Hong Kong's Disneyland had been shut, the Beijing News reported.
The storm was packing winds of 200 km (125 miles) per hour, Xinhua news agency said, making it comparable to Hurricane Rita, which slammed into the Texas-Louisiana coast on Saturday, causing flooding but largely sparing the U.S. region's refineries.
"The typhoon, with the wind speed of 55 meters per second at the center, dwarfed all those that had hit Hainan since 1960," apart from a storm that struck the province on September 13, 1973, it quoted Cai Qinbo, deputy director of the Hainan Provincial Meteorological Station, as saying.
Since the 1980s, Hainan, with a population of 8 million, has been a Special Economic Zone of China. It has played host to two Miss World finals.
Typhoons, known as hurricanes in the West, gather strength from warm sea water and tend to dissipate after making landfall.
At the beginning of this month, Typhoon Talim killed 56 people in eastern China after unleashing torrential rain and triggering floods and landslides.
| | |
| --- | --- |
| | |
| Paramilitary troops training | |

| | |
| --- | --- |
| | |
| Yichang Three Gorges International Tourism Festival | |

| | |
| --- | --- |
| | |
| Beijing International Cultural and Tourism Festival | |
Today's Top News
Top China News

Biggest typhoon in 30 years batters Hainan




Rate measures to help banks reduce risks




HK legislators start historic mainland visit




China, India set for fresh border talks




China sees economy growing 9.2 pct in 2005




China Open: Chinese duo fail to make history