Greenspan: Storm impact on oil has peaked
(Reuters)
Updated: 2005-09-26 09:34
US Federal Reserve Chairman Alan Greenspan told Russian Finance Minister Alexei Kudrin that risks to the oil market from a pair of U.S. hurricanes have peaked, and pressure on refineries should ease, the Russian minister said on Sunday, reported Reuters.
Kudrin said Greenspan, in bilateral talks on the sidelines of semi-annual meetings of the World Bank and International Monetary Fund, did not say outright that he expected oil prices to drop, but signaled the worst of the squeeze might be over.
"Greenspan believes that now we've overcome all the peaks of the risks of those storms ... (and) Katrina and Rita have exhausted their influence on the oil market already," he told a small group of reporters through a translator.
Oil prices fell about $1 a barrel on Sunday after Hurricane Rita, the second major storm to hit the U.S. Gulf Coast in a month, did less damage to oil refineries than first feared.
Markets had fretted the storm would bring prolonged energy shortages and compound the damage from Hurricane Katrina, which pushed oil prices to a record $71 a barrel in August.
Greenspan, in his discussions with Kudrin, said he thought the situation at U.S. refineries "is going to be easier" now that the storms have passed.
Kudrin also met Afghan officials in Washington to discuss a deal over the bilateral debt Kabul owes Moscow.
"We are in a course of very tough and very difficult discussions to restructure the debt, and possibly write off some," he said. "We have not found a solution yet."
Asked if Russia could join the World Trade Organization by the end of 2005, Kudrin said membership would take more time.
"Definitely it's going to happen later," the finance chief said. If Russia strikes the prerequisite deals with countries including the United States by December, he said it would likely take another six months to finalize accession.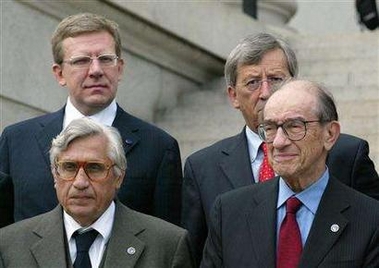 The Bank of Italy's Antonio Fazio (Bottom L) with U.S. Federal Reserve Chairman Alan Greenspan and Russian Finance Minister Aleksey Kudrin (Top L) with Jean-Claude Juncker, prime minister of Luxembourg, pose for a group photo outside the Treasury Department in Washington after a G7 finance ministers meeting September 23, 2005. [Reuters]

Turning to the global economy, Kudrin said world leaders needed to work together to resolve looming vulnerabilities.

"Currently, for the United States, this is the cycle of growth but risks also do exist," he said.

Commenting on China's move to scrap its yuan currency's peg to the dollar and switch to a managed float with reference to a basket of currencies, Kudrin said more flexibility in the yuan was best for China and its Asian neighbors.

He said it was inappropriate for governments to intervene in oil markets to counteract recent price gains, stressing the private sector could respond to current demands in time.

Oil-producing Russia has difficult decisions to make about how to balance the windfall from energy price rises and longer-term needs for economic overhaul and diversification, Kudrin said.

"Easy access to resources (can be) a disincentive to diversification," he said, adding: "Russia currently faces this kind of choice."




| | |
| --- | --- |
| | |
| Poles vote in parliamentary election | |

| | |
| --- | --- |
| | |
| Israeli troops arrest 207 suspected Islamic millitants in West Bank | |

| | |
| --- | --- |
| | |
| Anti-war demonstrators rally in Washington | |
Today's Top News
Top World News

Rate measures to help banks reduce risks




HK legislators start historic mainland visit




Damrey smashes into South China




China Open: Chinese duo fail to make history




Rita's destruction falls short of fears




China, India set for fresh border talks