Rita's destruction falls short of fears
(AP)
Updated: 2005-09-26 06:21
For the storm-shattered U.S. Gulf Coast, the images were all too familiar: Tiny fishing villages in splinters. Refrigerators and coffins bobbing in floodwaters. Helicopters and rescue boats making house-to-house searches of residents stranded on the rooftops.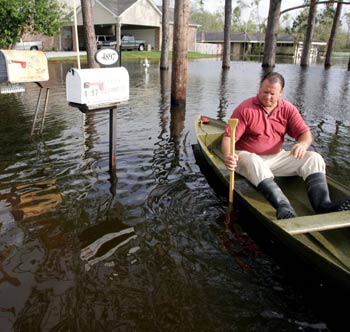 Ryan Griffin rows a canoe down his driveway in Crown Pointe, Louisiana September 25, 2005. Rescue teams hunted for people stranded in Louisiana's flooded Cajun country on Sunday, but officials expressed relief there was no major loss of life and that Hurricane Rita had largely spared the region's huge refineries. Winds resulting from Hurricane Rita have caused areas like Crown Pointe south of New Orleans to flood. [Reuters]
But as the misery wrought by Hurricane Rita came into clearer view ¡ª particularly in the hard-to-reach marsh towns along the Texas-Louisiana line ¡ª the lasting signs that emerged a day after the storm's 120-mph landfall were of an epic evacuation that saved countless lives, and of destruction that fell short of the Katrina-sized fears.
"As bad as it could have been, we came out of this in pretty good shape," Texas Gov. Rick Perry said after taking a helicopter tour Sunday.
Even with nearly 1 million in the region without electricity, some coastal towns flooded to the rooftops and the prospect of nearly 3 million evacuated residents pouring back onto the highways for home, the news was overwhelmingly positive.
Petrochemical plants that supply a quarter of the nation's gasoline suffered only a glancing blow, with just one major plant facing weeks of repairs. The reflooding in New Orleans from levee breaks was isolated mostly to areas already destroyed and deserted, and could be pumped out in as little as a week. And contrary to dire forecasts, Rita and its heavy rains moved quickly north as a tropical depression instead of parking over the South for days and dumping a predicted 25 inches of torrential rains.
Most significantly, deaths were minimal ¡ª with only two reported so far ¡ª largely because residents with fresh memories of Katrina heeded evacuation orders and the storm followed a path that spared Houston and more populous stretches of the coast.
Along the central Louisiana coastline, where Rita's heavy rains and storm-surge flooding pushed water up to nine feet in homes, weary evacuees slowly returned to see the damage. Staring at the ground, shoulders stooped, clearly exhausted, many came back with stories of deer stuck on levees and cows swimming through seawater miles from the Gulf of Mexico.
"All I got now is my kids and my motorhome," said Tracy Savage, whose house in rural Vermilion Parish was four feet underwater. The 33-year-old diesel technician was able to salvage a toolbox and a few life vests, but not much more. "We've never had this much water, we've just never seen it."
More than 100 boats gassed up at an Abbeville car dealership Sunday before venturing out on search-and-rescue missions to find hundreds of residents believed to have tried to ride out Rita. About 500 people were rescued from high waters along the Louisiana coast in the immediate aftermath of the storm and emergency calls were still coming in from far-flung areas near the gulf.
"The flooding is still extensive," said Michael Bertrand of the Vermilion Parish Office of Emergency Preparedness, adding that water was actually creeping into areas that were spared flooding Saturday. "We'll be going back through there to see if there's anybody left."
During a helicopter tour, Louisiana Gov. Kathleen Blanco, whose Cajun roots run deep in the region, got her first look at the hardest-hit areas.
In Cameron Parish, just across the state line from Texas and in the path of Rita's harshest winds east of the eye, fishing communities were reduced to splinters, with concrete slabs the only evidence that homes once stood there. Debris was strewn for miles by water or wind. Holly Beach, a popular vacation and fishing spot, was gone. Only the stilts that held houses off the ground remained.

| | |
| --- | --- |
| | |
| Poles vote in parliamentary election | |

| | |
| --- | --- |
| | |
| Israeli troops arrest 207 suspected Islamic millitants in West Bank | |

| | |
| --- | --- |
| | |
| Anti-war demonstrators rally in Washington | |
Today's Top News
Top World News

Rate measures to help banks reduce risks




HK legislators start historic mainland visit




Damrey smashes into South China




China Open: Chinese duo fail to make history




Rita's destruction falls short of fears




China, India set for fresh border talks