Koizumi may visit war shrine by year end
(AFP)
Updated: 2005-09-25 14:33
Japanese Prime Minister Junichiro Koizumi will likely visit a controversial war shrine by the end of the year despite opposition by China, a close aide said, AFP reported.
"I do not know the date but I think he will pay homage to Yasukuni Shrine within this year," said Taku Yamasaki, former vice president of the ruling Liberal Democratic Party and close aide to Koizumi.
"I think he will not change his political belief," Yamasaki said in a talk show on the private Fuji television network.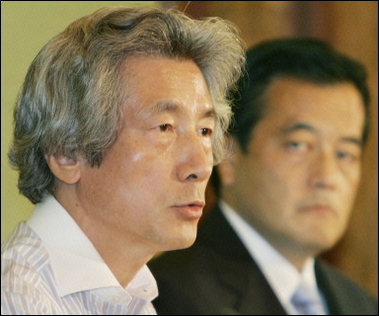 Japanese Prime Minister Junichiro Koizumi (L) answers questions while the head of the main opposition Democratic Party of Japan Katsuya Okada (R) looks on during a debate of six party leaders in Tokyo, August 29, 2005, ahead of early elections on September 11. [AFP/file]

On taking office in 2001, Koizumi pledged to pray annually at the Tokyo shrine which honors 2.5 million Japanese war dead including 14 top convicted war criminals. He has so far kept the promise, with his last visit on January 1, 2004, and indicated he would go sometime this year.

After a landslide election victory this month, Koizumi indicated no change in his stance, saying he would "make a decision appropriately" on whether to make a pilgrimage this year.

The visits have infuriated neighboring China and South Korea, which were invaded by Japan in the first half of the 20th century and see Yasukuni as a symbol of militarism.

Yamasaki said Japan "must find a way to improve diplomatic ties with China even if the prime minister goes (to Yasukuni)."

But he also acknowledged it would not be easy with the shrine opposed to the idea of separating the 14 top war criminals for veneration elsewhere.

"Yasukuni Shrine is adamant (in opposing the separation). Honestly speaking, we have almost given up," he said, while noting it would take time to build a new national memorial.




| | |
| --- | --- |
| | |
| Poles vote in parliamentary election | |

| | |
| --- | --- |
| | |
| Israeli troops arrest 207 suspected Islamic millitants in West Bank | |

| | |
| --- | --- |
| | |
| Anti-war demonstrators rally in Washington | |
Today's Top News
Top World News

Rate measures to help banks reduce risks




HK legislators start historic mainland visit




Damrey smashes into South China




China Open: Chinese duo fail to make history




Rita's destruction falls short of fears




China, India set for fresh border talks