Millions who fled Rita told to halt return
(AP)
Updated: 2005-09-25 11:09
Hurricane Rita pummeled US east Texas and the Louisiana coast Saturday, battering communities with floods and intense winds. But residents were relieved the once-dreaded storm proved far less fierce and deadly than Katrina.
After the storm passed, authorities pleaded with the roughly 3 million evacuees not to hurry home too soon, fearing more chaos.
"Be patient, stay put," said Texas Gov. Rick Perry. "If you are in a safe place with food, water, bedding, you are better remaining there for the time being."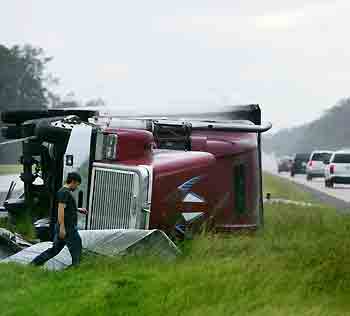 A truck lies on its side on I-10 highway in Orange, Texas in the aftermath of Hurricane Rita September 24, 2005. [Reuters]

In any other hurricane season, Rita might have seemed devastating. It knocked out power for more than 1 million customers, sparked fires across the hurricane zone and swamped Louisiana shoreline towns with a 15-foot storm surge that required daring boat and helicopter rescues of hundreds of people.

But the new storm came in the wake of Hurricane Katrina, with its 1,000-plus death toll, cataclysmic flooding of New Orleans and staggering destruction in Mississippi. By contrast, Rita spared Houston, New Orleans and other major cities a direct hit. By Saturday evening, the only reported death was in Mississippi, where one person was killed by a tornado that spun off the remains of the hurricane.





| | |
| --- | --- |
| | |
| Anti-war demonstrators rally in Washington | |

| | |
| --- | --- |
| | |
| Hurricane Rita causing havoc in U.S. | |

| | |
| --- | --- |
| | |
| Moscow court rejects oil tycoon's appeal | |
Today's Top News
Top World News

China pursuing independent approach to currency reforms




Rich nations urged to abandon protectionism




Iran rejects IAEA resolution




'We're not like New Orleans': official




Anti-war protestors march in Washington




Rural insurance urged for aged people