China pursue independent approach to currency reforms
(AP)
Updated: 2005-09-25 09:01
Chinese Finance Minister Jin Renqing stressed Saturday that Beijing is adopting "an independent and responsible" approach to its currency reforms.
In addressing the annual meetings of the 184-nation International Monetary Fund and its sister organization the World Bank, Jin said with the country's economic growth, "China's economic policies have attracted a lot of attention, especially regarding the exchange rate policy."
"I would like to take this opportunity to emphasize that the Chinese government has been consistently pursuing an independent and responsible policy approach in its exchange rate regime," he said.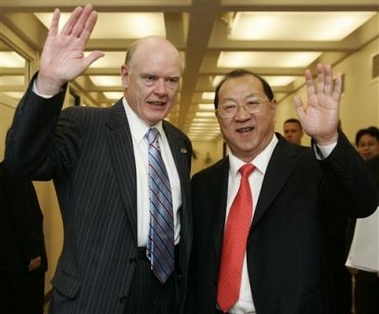 China's Finance Minister Jin Renqing, right, is welcomed by U.S. Treasury Secretary John Snow for private talks at International Monetary Fund Headquarters in Washington, Saturday, Sept. 24, 2005.[AP]

China has long been under international pressure to loosen its tightly controlled exchange rates. In the U.S., manufacturers and politicians blame an undervalued Chinese currency for the United States' soaring trade deficit and contend the situation could disrupt the world economy.

On July 21, China announced that it was allowing its currency _ the yuan, but also called renminbi _ to appreciate by 2.1 percent against the U.S. dollar and would adopt a policy of linking its currency to a basket of foreign currencies. Under that system, the yuan was allowed to rise or fall 0.3 percent against the dollar and a wider 1.5 percent against non-dollar currencies, such as the yen and the euro.

On Friday, shortly before Jin and central bank governor Zhou Xiaochuan were to attend as observers the meeting of finance ministers and central bankers from the Group of Seven leading industrialized nations, China said it would let the yuan move up or down 3 percent against non-dollar currencies, while leaving the yuan-dollar band unchanged.

Jin didn't indicate in his speech on Saturday whether the Chinese government will make any further adjustment of the Chinese currency.

"The reformed exchange rate regime and more flexible renminbi exchange rate have strengthened the government's ability to manage the macro economy and improved the prospect of rapid, sustained and balanced growth," he said.




| | |
| --- | --- |
| | |
| Yao Ming, Liu Xiang named Shanghai image representatives | |

| | |
| --- | --- |
| | |
| Li Ao in Shanghai | |

| | |
| --- | --- |
| | |
| Fire breaks out at commercial building in Changsha | |
Today's Top News
Top China News

Countdown to second manned space launch




Damrey kills 6, wreaks havoc in Hainan




'Anti-war Mom' arrested outside White House




China, India discuss border in Beijing




US, China try again for textile pact




497 officials retract stakes in coal mines