Israel launches airstrikes against Hamas
(AP)
Updated: 2005-09-25 08:42
Israel launched a "crushing" retaliation Saturday against Hamas in Gaza with deadly airstrikes, troops massed at the border and a planned ground incursion after militants fired 35 rockets at Israeli towns — their first major attack since the Gaza pullout.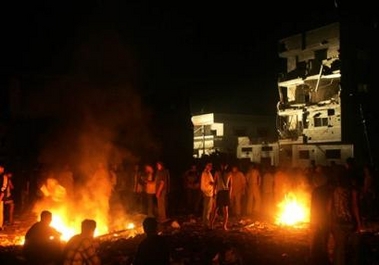 Fires burn as Palestinians inspect the damage of the Akram School after it was hit in an Israeli missile strike in Gaza City, early Sunday Sept, 25, 2005. An Israeli aircraft fired at a school in a crowded Gaza City neighborhood early Sunday, wounding at least 15 people, Palestinian medical officials said. [AP]
Israeli aircraft struck two suspected weapons-storage facilities in southern Gaza and a school in a crowded Gaza City neighborhood late Saturday and early Sunday, wounding 17 people, Palestinian officials said. Earlier, Israeli aircraft fired missiles at cars carrying militants in Gaza City, killing two Hamas militants.
The escalation threatened to derail a shaky seven-month-old truce and quashed hopes that Israel's ceding the coastal strip to the Palestinians would invigorate peacemaking. Israel's reprisals drew new Hamas threats of revenge, while Palestinian leader Mahmoud Abbas came under growing Israeli pressure to confront the militants.
Defense Minister Shaul Mofaz told security chiefs in a meeting that "the ground of Gaza should shake" and that he wanted to exact a high price from Palestinians everywhere, not just the militants, participants said.
The crisis erupted just before a major challenge to Israeli Prime Minister Ariel Sharon's leadership in his hardline Likud Party, and could strengthen the hand of Sharon's main rival, Benjamin Netanyahu, who has warned the Gaza pullout endangers Israel. A Likud vote Monday could determine whether Sharon quits the party — a move that would likely bring early elections and prompt Sharon to form a new centrist party to capture mainstream voters.
On Saturday evening, Sharon convened his Security Cabinet, a group of senior ministers, to approve a series of military operations proposed by Mofaz, culminating with a ground incursion into Gaza.
Security officials said that "Operation First Rain" would include artillery fire, air strikes and other targeted attacks. The operation will grow in intensity, leading up to a ground operation unless the Palestinian security takes action to halt the rocket attacks or Hamas ends the attacks itself.
The ground operation would require final approval from the full Cabinet, the officials added. They spoke on condition of anonymity because they were not authorized to publicize the operation's details.
The officials said the army planned to create a buffer zone in northern Gaza by ordering residents to leave their homes, and said a closure barring Palestinian laborers from entering Israel would remain in effect.
Shortly after the Security Cabinet's meeting, Israeli aircraft struck two suspected weapons-storage facilities in southern Gaza and a school in a crowded Gaza City neighborhood. Medical officials said 17 people, including women and children, were lightly wounded.
The Gaza City attack hit the Al-Arkam school, established by Hamas' founder, Sheik Ahmed Yassin, who was killed in an air strike last year. Five nearby homes were also damaged. The army said the school was used by Hamas to raise funds, recruit militants and assist families of suicide bombers.
"It was decided to launch a prolonged and constant attack on Hamas," said Maj. Gen. Yisrael Ziv, the army's head of operations, hinting that Israel was preparing to resume targeted attacks against top Hamas leaders. Asked whether the leaders were in danger, he said: "Let them decide for themselves."
Palestinian Interior Ministry spokesman Tawfiq Abu Khoussa called the Israeli retaliation plan a "serious escalation that will lead to a new era of violence."
A statement from Kofi Annan's office said the U.N. Secretary-General was "alarmed" by the escalating violence between Israel and armed Palestinian factions.
Annan urged "all Palestinian factions to heed President Mahmoud Abbass call on them to cease the public display of weapons, as a step towards abandoning weapons altogether and joining the construction of a democratic Palestinian society."
The chain of events began Friday afternoon, with an explosion at a Hamas rally in Gaza's crowded Jebaliya refugee camp in which at least 15 Palestinians were killed and dozens wounded.
Hamas blamed Israel for that blast, claiming Israeli aircraft fired missiles into the crowd, and said its rocket attacks on Israeli towns were meant as retaliation. However, the Palestinian Authority held the Islamic militants responsible, saying they apparently mishandled explosives at the rally. Israel denied involvement.
In a speech Saturday, Abbas also blamed Hamas and renewed demands that armed groups stop flaunting their weapons in public. "We are required more than ever before to end this frequent tragedy that resulted from chaos and military parades in residential areas," he said.
A senior Palestinian security official said the Jebaliya deaths were caused by a rocket-propelled grenade that exploded as a result of friction and in turn ignited about 10 other grenades on the back of a truck. The official spoke on condition of anonymity because of the sensitivity of the investigation.
Hamas has taken center stage since Israel's withdrawal, holding several large military-style victory parades. But the latest bloodshed appeared to put Hamas on the defensive.
Hamas called Abbas' position "a stab in the back of the martyrs" and a blow to efforts to work out differences between the factions. Abbas has been trying to co-opt Hamas and has rejected calls by Israel and the international community to confront and disarm the militants.
On Saturday afternoon, Israeli aircraft fired five missiles at two cars carrying Hamas militants in Gaza City, killing two Hamas militants and wounding nine other people, officials said. Earlier, officials put the death toll at four. Officials blamed confusion at the scene for the discrepancy.
Hamas identified the dead as Nafez Abu Hussein and Rwad Farhad, local field commanders. Several hundred gunmen, some firing into the air, joined a funeral procession for Farhad, who was 17.
Farhad's mother, known as Um Nidal, said all three of her sons have been killed in fighting with the Israelis. "I am so proud," she said. "I wish I had more sons to offer."
Hamas vowed to avenge the attack, calling on its militants in a statement to strike Israel "in every spot of our occupied land." At least four more rockets fell in Israel after the air strike.
The Israeli army said it targeted two Hamas vehicles — one carrying weapons and the other carrying militants. The strikes signaled a resumption of Israeli targeted killings of Palestinian militants, a practice it suspended during the truce. During more than four years of fighting, Israel killed scores of militants and bystanders in such attacks.
Palestinian Information Minister Nabil Shaath denounced the Israeli strike as an "act of criminal aggression" and accused Israel of trying to destroy the cease-fire that had largely held since February.
On the other side of the border, Eli Moyal, the mayor of Sderot, the Israeli town hit by most of the rockets, criticized the Israeli response as "minimal and insulting." Israeli newscasts showed hysterical residents in Sderot crying and running for cover during a rocket attack.
Mofaz also ordered large numbers of ground forces to deploy near northern Gaza, the launching area for most rocket attacks.
In an unprecedented step, Israel set up five artillery cannons elsewhere on the border. In the past, Israel retaliated for Palestinian rocket fire with missile strikes from the air or with ground incursions. Artillery fire is less precise than missiles, and artillery shells fired into densely populated Gaza could cause many casualties.
Israel sealed the West Bank and Gaza, barring thousands of Palestinians from jobs in Israel.
| | |
| --- | --- |
| | |
| Hurricane Rita causing havoc in U.S. | |

| | |
| --- | --- |
| | |
| Moscow court rejects oil tycoon's appeal | |

| | |
| --- | --- |
| | |
| Crippled plane lands safely at L.A. airport | |
Today's Top News
Top World News

China may open skies to private flyers around 2010




Rich nations urged to abandon protectionism




Iran rejects IAEA resolution




'We're not like New Orleans': official




China widens yuan trading band




China not to use forex on oil stockpile