Hurricane Rita's winds lash U.S. Gulf Coast
(AP)
Updated: 2005-09-24 19:49
Hurricane Rita plowed into the U.S. Gulf Coast early Saturday, lashing Texas and Louisiana with driving rain, flooding low-lying regions, knocking power out to more than half a million people and sparking fires across the region.
Rita made landfall at 3:30 a.m. EDT as a Category 3 storm just east of Sabine Pass, on the Texas-Louisiana line, bringing a 20-foot storm surge and up to 25 inches of rain, the National Hurricane Center said.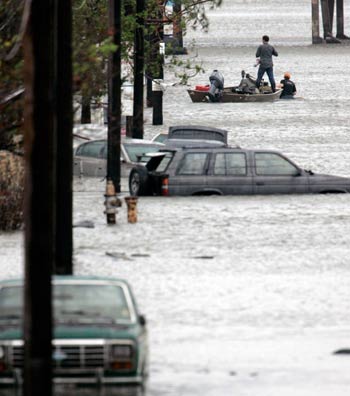 An unidentified camera crew makes its way by boat through the newly flooded Ninth Ward in New Orleans, September 23, 2005. Texas officials warned of catastrophe and an already devastated New Orleans suffered renewed flooding as weakened levees gave way in the hours before Hurricane Rita's expected strike at the U.S. Gulf Coast. [Reuters]
Residents in hard-hit western Louisiana called police early Saturday to report roofs being ripped off and downed trees. Rescuers were forced to wait until the winds outside died down to safe levels.
"We can't even get out to check yet," said Sgt. Wendell Carroll of Louisiana's Calcasieu Parish Sheriff's Office. "All we can hear is the wind a' howling."
The storm spun off tornadoes as it churned northwest at 12 mph with winds that topped 120 mph, causing transformers to explode in the pre-dawn darkness.
In Jasper County, north of Beaumont, a house with seven people inside floated in floodwaters after it came off its foundation, said sheriff's communications supervisor Alice Duckworth.
Duckworth said the 30 emergency workers were stuck in the emergency operations center because of flooding. "We can't get any fire trucks out," she said.
Rita spared the flood-prone cities of Houston and Galveston a direct hit. "It looks like the Houston and Galveston area has really lucked out," said Max Mayfield, director of the hurricane center.
But rain from Rita drenched parts of New Orleans on Saturday, straining an already fragile levee system that failed in places on Friday.
The National Weather Service said New Orleans was expected to get spurts of rain dropping 3 to 4 inches per hour. On Friday, hurricane-driven storm surges topped one levee, while another began leaking.
Fires were reported in and around Houston, including one in a two-story apartment building in southeast Houston that left at least eight units damaged, authorities said. Nobody was hurt, according to District Chief Jack Williams. Another blaze broke out before dawn at a shopping complex in Pasadena. There were no immediate reports of injuries.
In a hotel in Beaumont, Texas, near where Rita struck, windows were blown out and shards of glass and pieces of trees were strewn throughout the flooding lobby, KHOU-TV reported.
In Tyler County in eastern Texas, high winds ripped roofs off several buildings, including the police department in Woodville, sheriff's Chief Deputy Clint Sturrock said.
The junior high school in nearby Warren also lost its roof, and fire ¡ª likely triggered by lightning ¡ª broke out in a pile of logs. "We just let it burn," Sturrock said.
More than 450,000 CenterPoint Energy customers in Texas were without power in the company's service area, which stretches from Galveston into Houston north to Humble, company spokeswoman Patricia Frank said. Entergy spokesman David Caplan said about 55,000 of its Texas customers in the storm-affected area were without electricity.

| | |
| --- | --- |
| | |
| Hurricane Rita causing havoc in U.S. | |

| | |
| --- | --- |
| | |
| Moscow court rejects oil tycoon's appeal | |

| | |
| --- | --- |
| | |
| Crippled plane lands safely at L.A. airport | |
Today's Top News
Top World News

China may open skies to private flyers around 2010




China widens yuan trading band




China not to use forex on oil stockpile




Hurricane Rita's winds lash U.S. Gulf Coast




Indonesia urged to probe fishing incident




Old man who touched China's heart dies at 93