Officials found reluctant to retract stakes in coal mines
By Jiang Zhuqing (China Daily)
Updated: 2005-09-23 05:57
China's latest effort to clean up its terrible coal-mine safety record by breaking the links between colliery owners and officials has not had the desired effect, industry figures and experts said.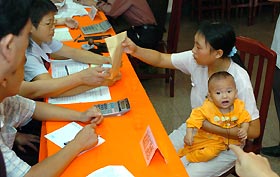 Liang Zhangling, wife of a miner killed in a flooding accident on August 7 in Daxing coal mine in Xingning, Guangdong Province, receives 200,000 yuan (US$24,700) in compensation from government officials yesterday. The accident killed 123 miners. [Xinhua]

Yesterday was the deadline by which all government officials who invested in coal mines were required to withdraw their money, according to the State Council order issued last month.

"The actual number of officials who have interests in mines is unavailable now," said An Yuanjie, an official with the State Administration of Work Safety (SAWS). "Discipline inspection departments at the provincial level are collecting data."

A final report will be released by mid-October, she said, adding: "By then, officials who have refused to withdraw illegal investment from collieries will have been given severe punishment."

However, industry insiders believe that a large number of officials are still hanging on to their stakes in mines. In Southwest China's Guizhou Province, some officials declared their investments to the government, said officials from the provincial work safety bureau, but no figure was given.

In a related bribery case, Zhao Dawu, a former director of the coal bureau in Zunyi County of Guizhou, was sentenced to life imprisonment after it was discovered he took millions in bribes to invest in coal mines, reported Xinhua, without saying when the sentence was handed down.





| | |
| --- | --- |
| | |
| British Princess Anne visits children in Hefei | |

| | |
| --- | --- |
| | |
| Police parade to show skills in Changchun | |

| | |
| --- | --- |
| | |
| Soaring tide of Qiantang River | |
Today's Top News
Top China News

Officials found reluctant to retract stakes in coal mines




Central bank to gradually lessen forex role




China bank gets IPO OK from HK bourse




176 flights cancelled for military exercise




Zoellick: U.S.-China relationship 'complex'




Indonesia urged to discipline its navy