Katrina's death toll climbs past 1,000
(AP)
Updated: 2005-09-22 18:30
Searchers looking for bodies smashed into homes that had been locked or submerged under Hurricane Katrina's highest floodwaters, pushing the overall body count past 1,000 as another hurricane threatens to prolong the hunt for the dead.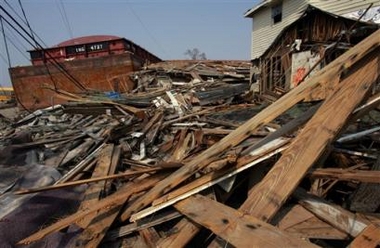 A barge sits in the Ninth Ward near a break in the London Avenue Canal levee Tuesday, Sept. 20, 2005, in New Orleans. [AP]
The death toll in Louisiana stood at 799 on Wednesday, an increase of 153 since the weekend and nearly 80 percent of the 1,036 deaths attributed to Katrina across the Gulf Coast region. Officials said the effort could last another four to six weeks.
"There still could be quite a few, especially in the deepest flooded areas," said U.S. Coast Guard Capt. Jeffrey Pettitt. "Some of the houses, they haven't been in yet."
About 500 people are involved in the search of locked homes, the third and most intense phase of the recovery effort. Initially, authorities made a hasty sweep to identify the living and dead. That was followed by a door-to-door search, though locked doors were off-limits.
At one home, Miami-Dade Fire Department Capt. Edan Jacobs kicked at a door a dozen times, then used a sledgehammer. Police officers and National Guardsmen stood by, weapons ready, as emaciated dogs circled.
"We try not to destroy the homes, but we have to get inside," said fire department Lt. Eric Baum. "Drastic circumstances call for drastic measures."
Dr. Louis Cataldie, medical incident commander for Louisiana, said the elderly appear to make up the bulk of the dead but that searchers also are finding more children.
"That's tough," he said.
Searchers, wearing special masks to ward off the mold and stench, sometimes must go to three different entrances before finding one not blocked by refrigerators or couches.
Many homes are unsafe to enter, while others lay under piles of muck and debris. Some homes are so structurally unsound they are marked, "Do not enter."
As cleanup from Katrina accelerated, the city prepared for a new threat from Hurricane Rita, which gained speed and strength as it moved across the gulf toward Texas. New Orleans Mayor Ray Nagin renewed his plea for residents to get out of the city.
The Army Corps of Engineers continued pumping the water left behind by Katrina and readying the city's fractured levee system, in case the new storm took a sharp turn and targeted Louisiana. Engineers warned residents that the patched-up levees can only handle up to 6 inches of rain and a storm surge of 10 to 12 feet.
A mandatory evacuation order was in effect for the entire east bank of the Mississippi, and some 500 buses were standing by at the convention center, but few seemed to be taking advantage. Only 27 people had been evacuated by the end of the day.
Though much of New Orleans was no longer submerged, those parts reclaimed from the water were a dreadful sight. A neighborhood street below the 17th Street Canal levee that was just recently pumped of flood waters looked like a river bed, with boulders, mud and branches mixing with the debris of destroyed homes.
The mayor said Wednesday that the city may be able to handle only a little more than half its full population while recovering from Katrina over the coming year.
The city had more than 484,000 residents before the hurricane left thousands of homes uninhabitable and ruined much of the community's infrastructure.
"We are probably looking at repopulating the city right now at about the 250,000 level. That's probably all we can handle within the next year," Nagin said.
Nagin said he is ready to resume repopulating the city once Rita passes, but he cautioned that anyone who returns must assume certain risks, including evacuating yet again if a new storm threatens.
"Anyone who is thinking about coming and staying, make sure that you are a very mobile person," Nagin said.
On Wednesday, emergency crews hacked their way into houses in the Ninth Ward, an impoverished section of the city notable for being the birthplace of Fats Domino and other black musicians.
Much of the final search was being conducted in eastern New Orleans. Crews probed areas of the city that just recently have been drained enough to allow ground searches — neighborhoods that were closest to the fractured levees and bore the brunt of the floodwaters' force.
As the weeks pass, the urgency of the task increases because bodies are decomposing rapidly.
Bodies are still found scattered around homes and in streets. On Tuesday, a badly decomposed corpse in the Ninth Ward lay draped over a fence, its nearly skeletized head resting on the ground and one leg jutting in the air.
Pettitt, the Coast Guard official in charge of retrieval, acknowledged frustration with the process and with trying to coordinate with Kenyon International Emergency Services, the private company that has contracted with the state to remove the bodies.
Gov. Kathleen Blanco asked President Bush on Wednesday to appoint an independent commission to investigate the preparations for and response to Hurricane Katrina — adding her voice to a chorus of Democrats calling for an independent investigation.
Bush has named Frances Fragos Townsend, his in-house homeland security adviser, to lead an administration investigation into the sluggish federal response to Katrina. The appointment of Townsend, a former federal prosecutor, hasn't satisfied Democrats on Capitol Hill who are demanding a fully independent investigation.
| | |
| --- | --- |
| | |
| Crippled plane lands safely at L.A. airport | |

| | |
| --- | --- |
| | |
| Japanese Prime Minister Koizumi reappointed | |

| | |
| --- | --- |
| | |
| North Korea to drop nuclear weapons development | |
Today's Top News
Top World News

Zoellick: U.S.-China relationship 'complex'




Crippled plane lands safely at LA airport




Russia, China warn against antagonizing Iran




Firms mull China-Russia gas pipeline




High tuition fees drive mother to suicide




China, Japan to meet over gas feud