Crippled plane lands safely at LA airport
(Los Angeles Times)
Updated: 2005-09-22 14:27
Moments before safely landing a crippled JetBlue aircraft at the Los Angeles International Airport, the aviator jokes with a colleague and calmly touches down.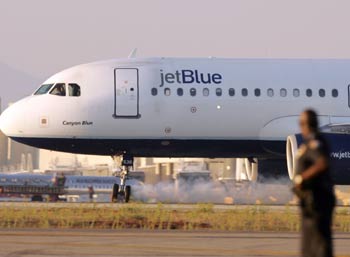 A police officer watches as a JetBlue aircraft with its front landing gear turned sideways and smoking, makes an emergency landing at Los Angeles International Airport in Los Angeles September 21, 2005. [Reuters]
He had just completed a dramatic commercial jet landing and there he stood on the plane's stairwell, smiling and bidding passengers farewell as they exited the aircraft.
The pilot of JetBlue Flight 292 had delivered what experts said was a "perfect" touchdown of a crippled aircraft.
Los Angeles Mayor Antonio Villaraigosa, who spoke to the pilot at Los Angeles International Airport, later identified him to reporters as Scott Burke and praised his heroism.
"He joked that he was sorry he put the plane down 6 inches off the center line," Villaraigosa said the pilot told him.
A JetBlue spokeswoman declined to provide any information about Burke.
A recording by a KCAL-TV Channel 9 cameraman of the pilot's radio conversation with a ground crew member reveals a calm man who even had time to joke about his predicament.
"Do you want to trade places with me?" Burke asked a mechanic on the ground.
He even had a moment to consider the public relations repercussions before he made his landing, saying over the radio, "Do we have someone here who is media savvy? I want to keep the media wolves off my back. I've got nothing to say to them."
Before the plane touched down, Burke said in a steady voice, "If you've got nothing else to tell me, I've got nothing else to say."
And with that, he began his descent to LAX. As the malfunctioning nose wheel hit the runaway, the force of impact flattened its two front tires and sent sparks and flames shooting under the plane's fuselage. In a matter of seconds, the plane ground to a halt.
Barry Schiff, a former TWA pilot, praised the JetBlue pilot's work.
"It was done perfectly. He did a superlative job," Schiff said. "Not only did he put the nose down slowly, he kept the plane going straight and the wheel came to a stop on the center roadway. Perfect."
Schiff said he had thought the Airbus A320 plane and the passengers would be fine, but was sure the wheel would collapse, causing the nose of the plane to come down.
"I saw the nose wheel touch down and was quite surprised that the nose wheel did not break off and go backward," Schiff said.
Retired American Airlines pilot Richard J. Bergholz said it probably helped that the JetBlue pilot had several hours to prepare for landing.
"Once they knew what was wrong, the outcome was pretty much foreordained," Bergholz said. "The pilot knew what he was going to do."
Bergholz said he imagined the pilot and co-pilot might have felt a twinge of apprehension as the plane came to a stop about 1,000 feet from the end of a 10,000-foot runway.
"That would have been really bad," Bergholz said.
He praised the pilot for not evacuating the plane after landing.
"That tells me that these guys appreciated the fact that when you do an emergency evacuation, someone always gets hurt," Bergholz said. "That was an excellent decision by the pilot."
Al Pregler, a retired United Airlines pilot, said the landing was not as dangerous as it seemed. He even suggested that a belly-landing without the wheels may have been safer, although more damaging to the plane.
He said that most commercial aviators are trained to handle such situations and that this particular pilot followed the manual exquisitely.
"It's not a death-defying event," Pregler said. "I wasn't expecting anyone to get hurt. But what he did was great. It couldn't have turned-out better."
| | |
| --- | --- |
| | |
| Crippled plane lands safely at L.A. airport | |

| | |
| --- | --- |
| | |
| Japanese Prime Minister Koizumi reappointed | |

| | |
| --- | --- |
| | |
| North Korea to drop nuclear weapons development | |
Today's Top News
Top World News

State Department: US-China relationship complex




Crippled plane lands safely at LA airport




Russia, China warn against antagonizing Iran




Firms mull China-Russia gas pipeline




High tuition fees drive mother to suicide




China, Japan to meet over gas feud