Crippled jet lands safely at L.A. airport
(AP)
Updated: 2005-09-22 09:08
A JetBlue airliner with faulty landing gear touched down safely Wednesday evening at Los Angeles International Airport after circling the region for three hours with its front wheels turned sideways and unable to retract into the plane.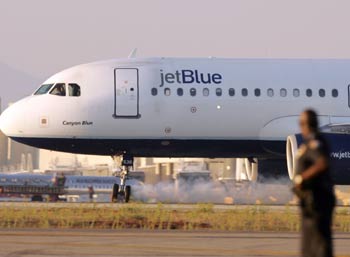 A police officer watches as a JetBlue aircraft with its front landing gear turned sideways and smoking, makes an emergency landing at Los Angeles International Airport in Los Angeles September 21, 2005. [Reuters]
The pilot landed using the back wheels first and then eased onto the front tires, which smoked, popped and sparked as the plane slowed. The landing was made at an auxiliary runway set apart from the main terminals.
Emergency crews from across the area, which had massed near the runway, helped the 139 passengers and six crew members. Within minutes, the plane's door was opened and passengers with their carry-on luggage walked down a stairway onto the tarmac.
Some passengers shook hands with emergency workers, talked on their cell phones and waved to cameras. One firefighter carrying a boy across the tarmac put his helmet on the child's head.
No injuries were immediately reported, authorities said.
"It was a very, very smooth landing. The pilot did an outstanding job," fire Battalion Chief Lou Roupoli said moments after the plane touched down.
JetBlue flight 292 left Bob Hope Airport in Burbank at 3:17 p.m. for New York's JFK airport, said JetBlue spokesman Bryan Baldwin.
The Airbus A320 first circled the Long Beach Airport, about 30 miles south of Burbank, and then was cleared to land at Los Angeles International Airport. It stayed in flight to burn off fuel before landing, said Federal Aviation Administration spokesman Donn Walker.
As the plane landed in Los Angeles, spectators gathered on buildings and stood on parked cars to see first-hand an ordeal that was broadcast on local and national television that showed the nose wheel turned perpendicular.
The runway where the plane landed and an adjacent runway will be closed indefinitely, cutting arrivals to LAX in half, Walker said. Departures also will be affected.

| | |
| --- | --- |
| | |
| Crippled plane lands safely at L.A. airport | |

| | |
| --- | --- |
| | |
| Japanese Prime Minister Koizumi reappointed | |

| | |
| --- | --- |
| | |
| North Korea to drop nuclear weapons development | |
Today's Top News
Top World News

State Department: US-China relationship complex




Pilot delivers 'perfect' ending to ordeal




Russia, China warn against antagonizing Iran




Firms mull China-Russia gas pipeline




High tuition fees drive mother to suicide




China, Japan to meet over gas feud