Russia, China warn against antagonizing Iran
(Reuters)
Updated: 2005-09-22 06:55
VIENNA - Russia and China warned the United States and European Union on Wednesday against escalating the nuclear standoff with Iran, potentially blocking a Western drive to haul Tehran before the U.N. Security Council. Reuters reported.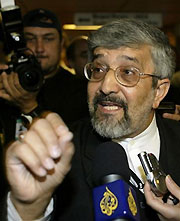 Iran's Ambassador to the International Atomic Energy Agency (IAEA) Ali Asghar Soltanieh talks to journalists during an IAEA board of governors meeting in Vienna, Austria, September 21, 2005. [Reuters]

The European Union has circulated a U.S.-backed draft resolution calling on the International Atomic Energy Agency (IAEA) governing board to report Iran's secretive nuclear programme to the Security Council, which could impose sanctions.

Western countries suspect Tehran is developing atomic weapons under cover of a civilian nuclear energy programme. Iran insists its programme is peaceful and intended to meet its energy requirements.

Both Russia and China, which as permanent, veto-wielding members of the Council could block any action, warned the West against antagonizing Iran.

"While Iran is cooperating with the IAEA, while it is not enriching uranium and observing a moratorium, while IAEA inspectors are working in the country, it would be counter-productive to report this question to the U.N. Security Council," Russian Foreign Minister Sergei Lavrov said.

"It will lead to an unnecessary politicizing of the situation. Iran is not violating its obligations and its actions do not threaten the non-proliferation regime," he said in a speech in San Francisco reported by the RIA Novosti news agency.

And Chinese Foreign Minister Li Zhaoxing told an EU team headed by British Foreign Secretary Jack Straw at the United Nations that sending the Iran issue to the Security Council could be counter-productive, a European participant said.