New Orleans facing more flooding by Rita
(AP)
Updated: 2005-09-21 18:58
As rain from Hurricane Rita threatened to once again flood the city, the Army Corps of Engineers was racing to patch New Orleans' fractured levee system while residents were forced to decide yet again whether to stay or go, the Associated Press reported.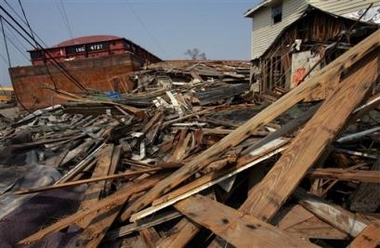 A barge sits in the Ninth Ward near a break in the London Avenue Canal levee Tuesday, Sept. 20, 2005, in New Orleans. The Army Corps of Engineers raced to patch New Orleans' fractured levee system and residents were forced to decide yet again whether to stay or go as a new, rapidly strengthening hurricane threatened to flood the city anew. [AP]


Forecasters said the storm that swiped Florida on Tuesday could strengthen to a Category 4 and hit Texas by the end of the week. But a slight turn to the right was possible and engineers feared additional rain could swamp the city's levees.

The Army Corps of Engineers said New Orleans levees can only handle up to 6 inches of rain and a storm surge of 10 to 12 feet. Early Wednesday, Rita was a Category 3 storm with 115 mph winds.

"The protection is very tenuous at best," said Dave Wurtzel, the Corps official responsible for repairing the 17th Street Canal levee, whose huge breach during Katrina caused the worst of the floods.

Mayor Ray Nagin estimated that 400 to 500 residents were left in the city. The city plans to start to re-enforce the evacuation order Wednesday, he said. He did not give specifics on how the order will be enforced.

To people who refuse to leave, Nagin had this message: "We're all adults. We really don't want to take people out by gunpoint. We hope they see the threat... and obey the law."

The federal government's top official in the city, Coast Guard Vice Adm. Thad Allen, said the preparations in and around New Orleans included 500 buses for evacuation and enough water and military meals for 500,000 people.

"We are praying that the hurricane dissipates or that it weakens," said Gov. Kathleen Blanco, who declared a state of emergency. "This state can barely stand what happened to it."

In anticipation of another hurricane, the Corps drove a massive metal barrier across the 17th Street Canal bed to prevent a storm surge from Lake Pontchartrain from swamping New Orleans again.

Government engineers and private contractors also worked around the clock across New Orleans to repair the damage to the system of pumps, concrete floodwalls, earthen berms and canals that protect the below-sea-level city.

In addition, the corps had 800 giant sandbags weighing 6,000 to 15,000 pounds on hand just in case, and ordered 2,500 more to shore up low spots and plug any new breaches.

The scramble comes amid new questions about the city's flood-protection system. While the Army Corps has said flooding resulted because Katrina's storm surge exceeded what the barriers were designed to protect, investigations by The Washington Post and The New York Times on Wednesday quoted experts saying faulty design and inadequate construction played more of a factor.

Meteorologists also have questioned whether New Orleans got the full brunt of Katrina's Category 4 power, as the Corps has maintained. Both newspapers cited researchers arguing that storm surges didn't cascade over the floodwalls.

Rita's renewed threat to the levees forced the mayor to suspend the phased reopening of the city. In some areas where bars, restaurants and shops were opening their doors for the first time since Hurricane Katrina, people were boarding up windows and getting ready to leave town again.

"The ground's saturated, and a lot of the storm drains are clogged up with garbage," Frank Wills said as he packed up to leave his 150-year-old Creole cottage in uptown New Orleans. "If we get much at all, I think you'll see flooding where you never saw it before."

Even residents who have already been evacuated once faced the prospect of being uprooted again. At the Cajun Dome in Lafayette, emergency officials arranged to take the 1,000 refugees from the New Orleans area out on buses if Rita tracks north.

"Nobody here even wants to hear the word 'hurricane' right now," said Carlette Ragas, who has not been back to her home on Plaquemines Parish, south of New Orleans, since Katrina.

The call for another evacuation of New Orleans came after repeated warnings from top federal officials, including President Bush, that the city was not yet safe because of the lack of full electricity, drinkable water and 911 emergency service.

Nagin ordered residents who had slipped back into still-closed parts of the city to leave immediately. He also urged everyone already settled back into Algiers, the only neighborhood now open to returning residents, to be ready to evacuate as early as Wednesday.

President Bush made his fifth trip to the Hurricane Katrina zone on Tuesday to meet with business and political leaders in Gulfport, Miss., and received a briefing in New Orleans on preparations for Hurricane Rita.

Bush also appeared with Nagin amid tensions between the mayor and Allen over who is in charge, and conflicting information on whether people should come or go. At one point this week, Nagin said Allen apparently regarded himself as "the new crowned federal mayor of New Orleans."

At a news conference later Tuesday, all appeared forgiven. "We may not always agree, but we have one mission, and that is to bring New Orleans back," Nagin said, hugging the admiral and presenting him with a "I (heart) N.O." T-shirt.

The process of recovering bodies and searching for survivors continued Tuesday. In one house in the Mid-City neighborhood, officials found both.

Rescue workers said John and Leola Lyons, both 72, stayed together through Katrina's howling winds and floods that filled their one-story house with 18 inches of water. Even after she died, he stayed.

Federal agents finally broke down the door and found John Lyons and his wife's remains, three weeks and a day after the storm.

"We have half a happy ending," said emergency medical technician Christopher Keller. "That's pretty good these days."




| | |
| --- | --- |
| | |
| Japanese Prime Minister Koizumi reappointed | |

| | |
| --- | --- |
| | |
| North Korea to drop nuclear weapons development | |

| | |
| --- | --- |
| | |
| Clinton Global Initiative Summit | |
Today's Top News
Top World News

China unlikely to cut Venezuela's US oil supplies




Income gap in China reaches alert level




N.Korea raises stakes on nuclear deal




'EU textile deal won't affect 2006 exports'




Railways seeking overseas investment




Translation of bin Laden speeches released