Hurricane Rita develops into Category 3 storm
(Reuters)
Updated: 2005-09-21 16:42
After lashing the Florida Keys, Hurricane Rita gained power on Wednesday and headed across the Gulf of Mexico on a course that could take it to Texas and dump more rain on Katrina-battered Louisiana, reported Reuters.
Rita was upgraded to a Category 3 storm and the National Hurricane Center said it probably would develop into a Category 4 on Wednesday, the same classification as Hurricane Katrina, which devastated parts of Louisiana, Mississippi and Alabama last month.
Rita had sustained winds of 115-mph (185-kph) winds on Wednesday as it headed into the Gulf. The storm hit the Florida Keys but did not get close enough to reach the vulnerable chain of islands with its most destructive forces.
Rita's most likely future track would take it to Texas by the end of the week, raising fears the sprawling storm could bring heavy rains to flooded New Orleans and threaten the recovery of oil production facilities in the Gulf of Mexico.
With Rita looming, Louisiana declared a state of emergency and New Orleans, 80 percent of which was flooded when Katrina shattered its protective levees, was taking no chances. Mayor Ray Nagin said two busloads of people had been evacuated already and 500 other buses were ready to roll.
"We're a lot smarter this time around," he said. "We've learned a lot of hard lessons."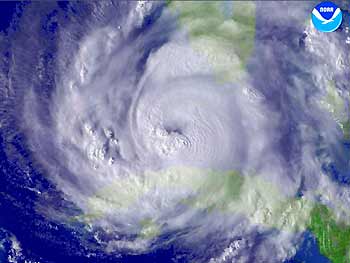 US National Oceanic and Atmospheric Administration (NOAA) satellite image of Hurricane Rita taken at 2045 GMT on September 20, 2005. [Reuters]

With grim news footage of Katrina's assault still fresh in their minds, officials along the Texas Gulf Coast prepared for Rita. An evacuation was ordered for Galveston and several schools in the region planned to cancel classes.

About 1,100 Hurricane Katrina evacuees still in Houston's two mass shelters faced another evacuation as the city found itself in Rita's possible path. They were being sent to Fort Chaffee, Arkansas.

CONDITIONS SIMILAR TO KATRINA

Rita's center was about 145 miles (235 km) west of Key West, Florida, at 2 a.m. EDT (0600 GMT). The hurricane was headed west into the southeastern Gulf of Mexico at about 14 mph (22 kph), the U.S. National Hurricane Center said.

The hurricane center said Rita was likely to become a Category 4 hurricane on the Saffir-Simpson scale -- with sustained winds above 130 mph (210 kph) -- by Wednesday night.

"The conditions over the central Gulf are much like they were for Katrina," hurricane center deputy director Ed Rappaport told CNN.

A major hurricane could send a 20-foot (6-metre) storm surge over the Texas coast by Saturday.

Oil companies just starting to recover from Katrina evacuated Gulf oil rigs as Rita moved toward major energy production areas.

The Navy began moving its remaining fleet of Katrina relief vessels, including the Iwo Jima, away from the Gulf Coast to ride out any potential battering from Rita.

President George W. Bush was briefed on the growing storm aboard the helicopter assault landing ship Iwo Jima, which is docked in New Orleans and has served as the military's Katrina relief headquarters.

"I've been briefed on the planning for what we pray is not a devastating storm. But there's one coming," said Bush, who was criticized as being caught off guard by the severity of Katrina.

Residents of the Florida Keys were grateful that Rita merely skirted their area.

"We did not have the flooding I thought we'd have," Key West Mayor Jimmy Weekley told reporters. "We were extremely lucky."

All 80,000 residents had been ordered out of the Keys island chain but many stayed behind in boarded-up homes. Rita's winds pushed seawater, sand and seaweed onto the Overseas Highway, the only road linking the islands to the mainland and flooded some buildings.

The storm swamped streets and knocked out power in Key West, the tourist playground at the western end of the island chain. But officials said the city fared well.

Bush signed an emergency declaration making federal assistance available to Florida, at the request of his brother, Florida Gov. Jeb Bush.

Rita was the seventh hurricane to hit Florida in 13 months.




| | |
| --- | --- |
| | |
| Japanese Prime Minister Koizumi reappointed | |

| | |
| --- | --- |
| | |
| North Korea to drop nuclear weapons development | |

| | |
| --- | --- |
| | |
| Clinton Global Initiative Summit | |
Today's Top News
Top World News

China unlikely to cut Venezuela's US oil supplies




Income gap in China reaches alert level




N.Korea raises stakes on nuclear deal




'EU textile deal won't affect 2006 exports'




Railways seeking overseas investment




Translation of bin Laden speeches released