Iran warns against sanctions over nukes
(AP)
Updated: 2005-09-21 14:31
Iran on Tuesday threatened to resume uranium enrichment and bar open inspections of its nuclear facilities if an ongoing meeting of the U.N. nuclear watchdog decides to refer it to the Security Council for possible sanctions, AP reported.
However, Iran's top nuclear negotiator, Ali Larijani, offered Europe a new round of talks, saying the world should give Tehran's new government a chance to reach a political understanding.
At the International Atomic Energy Agency board meeting in Vienna, European negotiators prepared a draft resolution that would refer Iran to the Security Council for alleged "failures and breaches of its obligations to comply" with the Nuclear Nonproliferation Treaty.
But Russia's opposition could delay the vote until a later meeting of the 35-member board, diplomats in Vienna said.
Larijani criticized the discussion in Vienna, saying nuclear technology has become a matter of national pride and that the Iranian government would not compromise over its right to enrich uranium.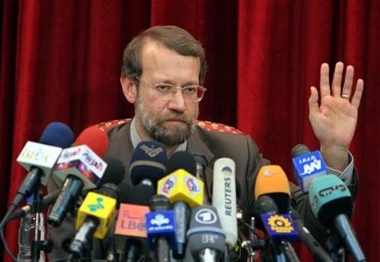 Iran's top nuclear negotiator Ali Larijani, gestures, as he speaks with media during a press conference in Tehran, Iran, Tuesday, Sept. 20, 2005. [AP]

"If they want to speak with Iran with the language of force, Iran will have no choice, in order to preserve its technological achievements, to get out of the framework of the NPT and the additional protocol and resume (uranium) enrichment," Larijani told a news conference.

Larijani did not appear to be calling for Iran to pull out of the treaty completely but rather to suspend the protocol that allows unfettered, short-notice inspections of nuclear facilities.

He warned that Iran's response would be the same if the IAEA tried to impose deadlines.

"If they set a deadline, it will, from Iran's point of view, make no difference from being referred to the U.N. Security Council and Iran will react in the same manner," Larijani said.

Britain, Germany and France, negotiating on behalf of the European Union, have drafted a resolution demanding Iran be referred to the council. But Europeans face opposition from other members of the IAEA board of governors, which started meeting Monday to discuss Iran's nuclear program.

The IAEA has been trying to determine if gaps in Iranian reporting on more than 18 years of clandestine nuclear activity are attempts to hide military involvement in what Iran insists is a purely civilian program to generate electricity. Establishing such involvement would bolster arguments by Washington and its allies that Iran's program is a cover for making nuclear arms.

Board members China and Russia ¡ª both Security Council members with veto power ¡ª oppose hauling Iran before the U.N.'s top decision-making body. But diplomats say the Russians could change their mind, which is the rationale for possibly delaying a vote.

Secretary of State Condoleezza Rice also hinted that, while referral was a near certainty, when that might happen was undecided.

"I'm quite certain that at some point in time Iran is going to be referred to the Security Council, particularly if Iran continues to demonstrate that it is not prepared to give the international community assurances that it is not going to try to build a nuclear weapons program under cover of civil nuclear power," she told reporters Monday at the United Nations.

Larijani urged the European troika to get back to the negotiating table.

"We are telling the three European countries that we are ready for talks but within the framework of the NPT," he said. "It's a good opportunity for them to play a good role. It's wise to give the new government (in Iran) a new chance to reach understanding."

Last week, new President Mahmoud Ahmadinejad defended his country's right to produce nuclear fuel in a fiery speech to the U.N. General Assembly. He denied his nation had any intention of producing weapons and offered foreign countries and companies a role in Iran's nuclear energy production.

Larijani said Iran was determined to restart uranium enrichment within a political deal but said it would do so without an agreement if Europeans refused to continue negotiations.

"If talks are considered dead, we will have no option but to go after restarting work in Natanz," he said, referring to a nuclear facility in central Iran that suspended uranium enrichment in 2003 under a deal with the Europeans.

Momentum for Security Council referral came after a report earlier this month by IAEA chief Mohamed ElBaradei said Tehran had produced about seven tons of the gas needed to enrich uranium ¡ª a possible pathway to a nuclear weapon ¡ª after restarting uranium conversion in Isfahan, central Iran, last month.

The Isfahan facility converts uranium concentrate ore, known as yellowcake, into uranium hexaflouride gas, the feedstock for enrichment.

Uranium enriched to low levels is used to produce nuclear fuel for generating electricity; further enrichment makes it suitable for use in nuclear weapons.

Larijani said Iran was forced to pursue uranium enrichment because NPT members, mainly Western countries, refused to provide nuclear technology as called for under the treaty.

The IAEA has mentioned numerous violations by Iran after about three years of investigation but says there is no evidence to prove it is running a nuclear weapons program.

Larijani described as "tales" and "propaganda" reports that Iran hid its nuclear activities for 18 years, saying Tehran didn't break any of its treaty obligations.

He also said the United States and Europe should learn from the North Korean nuclear issue. "What was the result of so many pressures on North Korea?" he asked. "Finally, they had to recognize North Korea's right to enrich uranium. ... They should recognize Iran's right now."