Israel seeks seat on UN Security Council
(AP)
Updated: 2005-09-21 09:26
Israel's foreign minister on Tuesday underlined the Jewish state's gains from its withdrawal from Gaza, disclosing that he met with his counterparts from more than 10 Arab and other Muslim nations this week.
Silvan Shalom also told the U.N. General Assembly that Israel would seek a seat on the powerful Security Council for the first time.
In his address, Shalom said his recent meetings represented "a number unthinkable" for a nation that has long been shunned by many U.N. members over its conflict with the Palestinians.
"The iron wall" that stood between Israel and most Islamic countries is coming down, Shalom said. "Relations are growing at a rate never seen before."
He stressed that the council effort was aimed at allowing Israel to "take its rightful place, as a country with full and equal rights in this institution." The earliest that could happen is 2017, Israeli mission spokeswoman Anat Friedman said.
Israel's standing in the United Nations has improved in the last year, with a seminar to address anti-Semitism and a special General Assembly session to commemorate the 67th anniversary of the liberation of Nazi concentration camps.
And in June, Israel was elected one of 21 vice presidents for the 60th General Assembly session that began last week ¡ª a seemingly small step but a move with symbolic resonance because Israel had long been denied a presence on key U.N. bodies.
Shalom noted most of Israel's contacts with Muslim leaders over the years have been secret, and he urged Arab and other Islamic colleagues to "bring our contacts out into the light of day, so that our peoples may understand our shared desire to work with each other, to bring peace and prosperity to our region."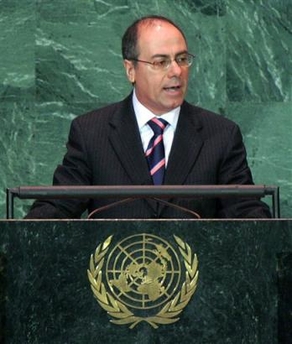 Israeli Foreign Ministere Silvan Shalom addresses the United Nations General Assembly at the U.N. headquarters in New York, Tuesday, Sept. 20, 2005.[AP]

Shalom said Monday that with Israel's 38-year occupation in Gaza completed, it is up to the Arabs to make the next move in Middle East peace efforts. He said his nation was willing to negotiate with archenemy Syria if it stops supporting militants.

Diplomats for the Quartet grouping ¡ª United Nations, United States, European Union and Russia ¡ª met Tuesday to assess Israel's withdrawal from Gaza. They said that while the pullout was a good step, they wanted Israel to keep moving forward.





| | |
| --- | --- |
| | |
| North Korea to drop nuclear weapons development | |

| | |
| --- | --- |
| | |
| Clinton Global Initiative Summit | |

| | |
| --- | --- |
| | |
| Schwarzenegger seeks re-election in 2006 | |
Today's Top News
Top World News

Income gap in China reaches alert level




N.Korea raises stakes on nuclear deal




'EU textile deal won't affect 2006 exports'




China unlikely to cut Venezuela's US oil




Railways seeking overseas investment




Translation of bin Laden speeches released