Karzai wants end to US-led operations
(AP)
Updated: 2005-09-21 08:55
Afghan President Hamid Karzai on Tuesday challenged the need for major foreign military operations in Afghanistan, saying airstrikes are no longer effective and that U.S.-led coalition forces should focus on rooting out terror bases and support networks.
His call for a new approach to tackling militants came despite the fiercest fighting in Afghanistan since U.S.-led forces invaded in late 2001, with more than 1,200 people killed in the six months leading up to Sunday's historic legislative elections.
Karzai demanded an immediate end to foreign troops searching people's homes without his government's authorization. He also said foreign governments should "concentrate on where terrorists are trained, on their bases, on the supply to them, on the money coming to them" — a veiled reference to support that militants allegedly get from neighboring Pakistan.
Afghan officials have repeatedly accused Pakistan of aiding Taliban rebels and other militants, a charge Islamabad vehemently denies.
"I don't think there is a big need for military activity in Afghanistan anymore," Karzai told reporters. "The nature of the war on terrorism in Afghanistan has changed now.
"No coalition forces should go to Afghan homes without the authorization of the Afghan government. ... The use of air power is something that may not be very effective now. ... That's what I mean by a change in strategy."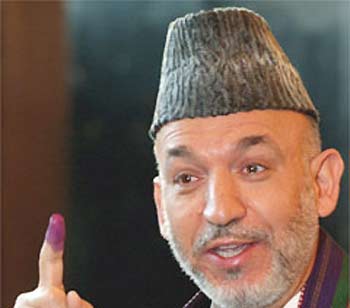 Afghan president Hamid Karzai shows his inked-finger before voting in Kabul, Afghanistan on Sunday. [AP]

It was the second time Karzai has publicly challenged the U.S.-led coalition. In May, before a trip to Washington, he demanded more authority over the 20,000-member U.S.-led coalition here, but President Bush said they would remain under American control. In addition to the coalition troops, there are 11,000 NATO peacekeepers in Afghanistan.

Karzai's comments coincided with the start of the count from the Sunday's parliamentary elections — the first here in more than 30 years. Trucks, helicopters and even donkeys were ferrying an estimated 6 million ballots to 34 counting centers around the country.

The polls are seen as a final step toward democracy on a path laid out in 2001, after U.S.-led forces ousted the Taliban for refusing to hand over al-Qaida leader Osama bin Laden after the Sept. 11 attacks.

At a news conference in Washington, U.S. Defense Secretary Donald H. Rumsfeld appeared to agree that airstrikes in Afghanistan might not be as useful as they once were.

"When you don't have a massed army on the ground or large puddles of enemies, then airstrikes are less effective than when you do have that type of a situation," he said.

Overall, however, Rumsfeld emphasized the country's ability to hold parliamentary elections without major violence, saying it marked a significant step toward stability.

"The country that hosted Osama bin Laden, that supported training camps for al-Qaida, endured decades of civil war, Soviet occupation, drought, Taliban brutality, is now a democracy that fights terrorists instead of harboring them," Rumsfeld said.





| | |
| --- | --- |
| | |
| North Korea to drop nuclear weapons development | |

| | |
| --- | --- |
| | |
| Clinton Global Initiative Summit | |

| | |
| --- | --- |
| | |
| Schwarzenegger seeks re-election in 2006 | |
Today's Top News
Top World News

Income gap in China reaches alert level




N.Korea raises stakes on nuclear deal




'EU textile deal won't affect 2006 exports'




China unlikely to cut Venezuela's US oil




Railways seeking overseas investment




Strong aviation sector growth forecast