Israeli seeks closer ties with Arab world
(AP)
Updated: 2005-09-20 09:31
Israel's foreign minister called on Arab states Monday to open formal relations with his country after talks with his Tunisian counterpart, the latest in a string of meetings that have boosted hopes of a new era of cooperation in the Middle East, AP reported.
But the Arabs showed continued signs of division over whether and how far to go beyond symbolic gestures to reward Israel for its withdrawal from the Gaza Strip after a 38-year occupation. The Arab League still hasn't set a date for a summit to discuss the Gaza withdrawal or Iraq, apparently due to lack of consensus on the issues.
Israeli Foreign Minister Silvan Shalom, who held talks with several Arab nations on the sidelines of a U.N. summit and ministerial meetings, also said his nation was willing to negotiate with archenemy Syria if it stops supporting militants.
Tunisia's Foreign Minister Abdelwahab Abdallah left the 40-minute meeting after shaking hands with Shalom and made no comments to reporters.
In a speech later to the U.N. General Assembly, Abdallah called on all parties to take advantage of the "positive developments" in the region to resume negotiations on creating a Palestinian state and bringing about peace.
He said a durable peace would require Israel also to give up land it captured from Syria and Lebanon.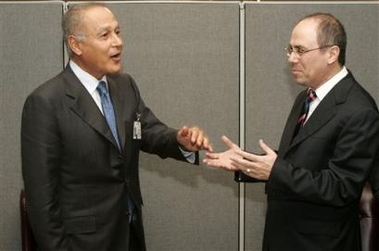 Ahmed Aboul Gheit, left, foreign minister of Egypt speaks with Israeli Foreign Minister Silvan Shalom, on the sideline of the World Summit and the General Assembly at the United Nations Monday, Sept. 19, 2005. [AP]

Israel seeks to capitalize on its withdrawal from the Palestinian territory, and Shalom has been telling Arab and Islamic countries that opening ties with Israel would be the best way to help the Palestinians.

Shalom said he was optimistic about the possibility of closer ties with the Arab world that could eventually lead to full diplomatic relations.

"I think that the time has come after we ended our withdrawal of Gaza (for Arabs) to take the initiative, take a move forward to have better relations with Israel," Shalom told reporters.

Shalom also announced he will visit Tunisia in November.

Tunisia broke off formal, low-level ties with Israel after September 2000, the outbreak of large-scale Israeli-Palestinian violence. But some commercial relations remain.

Shalom last week met with Qatar's foreign minister, who urged Arab countries to make gestures toward Israel after the withdrawal. But while that meeting was rare, attempts to bring together Qatar's ruler and Israeli Prime Minister Ariel Sharon did not materialize at a U.N. summit last week to mark the 60th anniversary of the world body.

Sharon did meet on the summit sidelines Friday with Jordan's King Abdullah II, however, whose country has a peace treaty with Israel.

The Israeli leader also shook hands and exchanged pleasantries ¡ª in front of a host of world leaders ¡ª with Pakistani leader Pervez Musharraf, whose country has long taken an especially hard-line stand against the Jewish state.

Then, Musharraf got a standing ovation when he addressed the American Jewish Congress Saturday night, saying his country could establish full diplomatic ties with Israel if it grants Palestinian statehood. Pakistan and Israel had no formal high-level contact until the foreign ministers of both countries met earlier this month in Turkey.

But despite the gestures, behind the scenes the Arabs appeared to be divided and so far have been unable to agree on a common reaction to the Israeli withdrawal.

An Arab summit set for August was postponed after Saudi King Fahd died; a new date has not been set.

Saudi Crown Prince Sultan said in New York last week that Israel should withdraw from more Arab land after Gaza, sticking to the pan-Arab position that full recognition and peace will come when Israel fulfills Arab conditions.

The Arab peace plan calls on Israel to withdraw from all territory captured in the 1967 Middle East war, the establishment of a Palestinian state and a solution for Palestinian refugees. Palestinians want Gaza, the West Bank and traditionally Arab east Jerusalem for their future state, while Syria wants the return of the Golan Heights.

Shalom said Arab officials he met with had a "positive attitude" about the future prospects for relations, though he indicated breakthroughs may not be achieved immediately.

Asked whether his talks with Arab officials could lead to diplomatic relations, Shalom replied: "Of course, they're considering it. They believe, too, this is the appropriate time. We're making some progress."

"I don't know if we are going to have full diplomatic relations, but we are taking some steps forward with all those countries."

Shalom predicted that recent contacts with Pakistan and other Muslim countries could become full diplomatic relations before the establishment of a Palestinian state.

"It's almost impossible for them to help the Palestinians while they have no kind of relations with Israel," he said of Arab states.

Shalom also urged Arabs to be more public about their relationships with Israel.

He said Syria cannot call for negotiations and at the same time support anti-Israeli Palestinian militant groups like Hamas and Islamic Jihad and Lebanon's Hezbollah.

"If they (the Syrians) would like to have better relations with us, of course, we would like to do it immediately. But they should come with clean hands," he said.

Syria, which is facing mounting U.S. pressure, has made several overtures to Israel to restart peace talks, which broke down in 2000. But the Israelis have shrugged off the offers, saying they may be mere attempts to appease the Americans while Damascus continues to aid Palestinian militants.




| | |
| --- | --- |
| | |
| North Korea to drop nuclear weapons development | |

| | |
| --- | --- |
| | |
| Clinton Global Initiative Summit | |

| | |
| --- | --- |
| | |
| Schwarzenegger seeks re-election in 2006 | |
Today's Top News
Top World News

N. Korea agrees to abandon nuclear weapon efforts




PBOC: Economy too much export-driven




UN warned on abuse of intervention right




White House invites China for G-7 talks




China shares rise on restructuring hopes




172 affected in Fujian cholera outbreak