NASA planning moon launch for 2018
(AP)
Updated: 2005-09-20 06:57
CAPE CANAVERAL, Fla. - It will cost $104 billion over the next decade to send astronauts back to the moon, NASA's chief said Monday, defending the price tag as an investment the nation can afford despite the expense of Hurricane Katrina.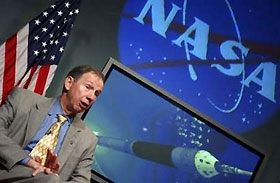 NASA Administrator Michael Griffin speaks at a news conference at NASA headquarters in Washington September 19, 2005. [Reuters]

Described as "Apollo on steroids," the new moon exploration plan unveiled by the space agency will use beefed-up shuttle and Apollo parts and aims to put people on the moon by 2018.

"There will be a lot more hurricanes and a lot more other natural disasters to befall the United States and the world in that time, I hope none worse than Katrina," NASA Administrator Michael Griffin said at a news conference.

"But the space program is a long-term investment in our future. We must deal with our short-term problems while not sacrificing our long-term investments in our future. When we have a hurricane, we don't cancel the Air Force. We don't cancel the Navy. And we're not going to cancel NASA."

Griffin said he is not seeking extra money and stressed that NASA will live within its future annual budgets of $16 billion. Funding within the human spaceflight program will be redirected to achieve this goal, and not "one thin dime" will be taken from science projects, he said.

The $104 billion price tag, leading up to an initial four-person lunar landing and spread over 13 years, represents 55 percent of what the Apollo program would cost in today's dollars, Griffin said. Apollo development spanned eight years, from 1961 to the first manned moon landing in 1969.





| | |
| --- | --- |
| | |
| North Korea to drop nuclear weapons development | |

| | |
| --- | --- |
| | |
| Clinton Global Initiative Summit | |

| | |
| --- | --- |
| | |
| Schwarzenegger seeks re-election in 2006 | |
Today's Top News
Top World News

N. Korea agrees to abandon nuclear weapon efforts




PBOC: Economy too much export-driven




UN warned on abuse of intervention right




White House invites China for G-7 talks




China shares rise on restructuring hopes




172 affected in Fujian cholera outbreak