Schroeder seeks coalition pacts with rivals
(China Daily)
Updated: 2005-09-20 06:20
BERLIN: German Chancellor Gerhard Schroeder's Social Democrats (SPD) yesterday invited rival liberals and conservatives to talks on possible coalition pacts, with the proviso that Schroeder remains chancellor.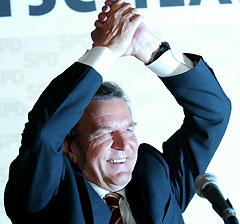 German Chancellor Gerhard Schroeder celebrates at the SPD party headquarters in Berlin September 18, 2005. [Reuters]

In an outcome with no post-war precedent, both Schroeder and his conservative challenger Angela Merkel claimed the right to form a government by seeking coalition partners.

As a result, the smaller parties - traditionally the kingmakers in Germany where coalitions are the rule - swiftly became the focus of attention yesterday.

Preliminary official results for Sunday's election gave Angela Merkel's Christian Democratic alliance (CDU/CSU) 35.2 per cent against 34.3 per cent for Schroeder's Social Democratic Party (SPD).

The CDU/CSU has gained 225 seats in the Bundestag against 222 for the SPD, according to the election authorities.

Adding to uncertainty, the final election result could still depend on 219,000 voters in a constituency in Dresden in the east of the country, where voting has been delayed until October 2 as a result of the recent death of a candidate.

Up to three extra seats could be added to the parliament from Dresden under Germany's complex proportional representation system. This could, in theory, produce a hung parliament.





| | |
| --- | --- |
| | |
| North Korea to drop nuclear weapons development | |

| | |
| --- | --- |
| | |
| Clinton Global Initiative Summit | |

| | |
| --- | --- |
| | |
| Schwarzenegger seeks re-election in 2006 | |
Today's Top News
Top World News

N. Korea agrees to abandon nuclear weapon efforts




PBOC: Economy too much export-driven




UN warned on abuse of intervention right




White House invites China for G-7 talks




China shares rise on restructuring hopes




172 affected in Fujian cholera outbreak