Sharon seeks disarmament of militants
(AP)
Updated: 2005-09-19 08:49
Israeli Prime Minister Ariel Sharon said Sunday that he has asked U.N. and European leaders to press for the disarming of Hamas militants and the abolition of their covenant — Israel's destruction.
Sharon told a conference of American Jewish leaders that Israel won't cooperate in Palestinian elections scheduled for January unless those two conditions are met.
Israeli assistance is considered vital for smooth elections. In January, when Mahmoud Abbas was elected to replace the late Yasser Arafat, Israel opened West Bank roadblocks and eased other restrictions.
Abbas made a "major mistake" by inviting Hamas to run in the elections, Sharon said. Their presence in the national Palestinian government is "unbearable" so long as they don't disarm and abandon their call for Israel's destruction, he said.
"I talked today to the secretary-general of the United Nations, I talked to every European leader about this issue," said Sharon, who came to New York last week for the U.N. summit of world leaders.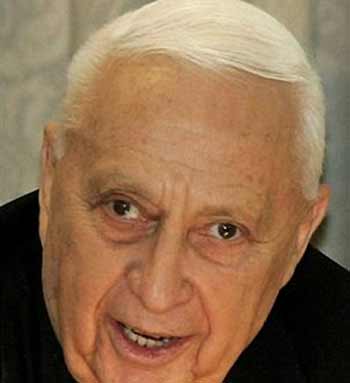 Prime Minister of Israel, Ariel Sharon speaks during a meeting with Jewish leaders on the last day of his visit to New York, Sunday, Sept. 18, 2005. [AP]

"I expressed the dangers — not only the danger to us, but maybe the most dangerous thing is the danger to the Palestinian Authority," he said. "And I asked them to put pressure to have Hamas hand over weapons and ban the Hamas covenant. We regard this to be a very, very important thing."

Hamas, which made inroads in recent municipal elections, is taking part in national Palestinian elections for the first time. It is expected to make a strong showing against Abbas' Fatah party.

Israel says Hamas participation in Palestinian elections violates the 1994 interim peace accords that created the Palestinian Authority, banning groups from running if they call for destruction of Israel. Hamas' Islamic ideology does not recognize a Jewish state in the Middle East, and Hamas suicide bombers have killed hundreds of Israelis during the past five years.

Abbas is under heavy international pressure to disarm militants, but is reluctant to do so for fear that would touch off civil war.

Hamas rejects Abbas' pleas to disarm and has even said it would build up its arsenal, reasoning that its attacks drove Israel from Gaza. Israel completed its pullout from Gaza last week, saying it was a unilateral move aimed at improving Israel's security.

Sharon said Israel would not actively hinder the elections if Hamas remained armed and committed to its covenant. "But we are not going to provide any support if they are not going to do these two things," he said, referring to the weapons collection and the abolition of the Hamas covenant.

In his speech, Sharon confirmed that he and Abbas planned to meet Oct. 2.




| | |
| --- | --- |
| | |
| Clinton Global Initiative Summit | |

| | |
| --- | --- |
| | |
| Schwarzenegger seeks re-election in 2006 | |

| | |
| --- | --- |
| | |
| Suicide bombing kills at least 152 in Iraq | |
Today's Top News
Top World News

China's new North Korea proposal praised




New cotton strain to raise output by 25%




Sirens mark anniversary of Japan invasion




China lauds stable yuan since July revaluation




Relief at hand for thirsty northern cities




Merkel, Schroeder both claim election victory